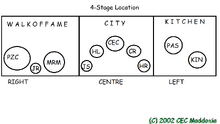 Center Stage
Chuck E. Cheese
Helen Henny
Crusty the Cat
Jasper T. Jowls
Harmony Howlette
Left
Right
Pizzacam
Mr. Munch
Munch Jr.
Trivia
Garner Holt built the original 4 Stage Prototype animatronics with 50 movements, however, the newer stages have 25 movements to save money. This does not affect Munch Jr. Pizzacam, or The King, as the two former only have 12 movements at all stages and the King kept his 50 movements.
See also
Community content is available under
CC-BY-SA
unless otherwise noted.