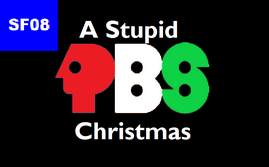 A Stupid PBS Christmas is a PBS parody planning to be released on December 25, 2018 but due to SF08's PC problems, it was delayed to January 2, 2019, the first 2019 video by SF08.
Plot
A santa Viacom brings pranked presents to the P-Head and the other logos.
Characters
P-Head
B
S
Viacom
SF08
HTV
Carlton
Trivia
The special was released in the same day as the PGG Rebooted Christmas special called Peedy vs Santa.
This is the 2nd PBS parody special first being PBS.exe.
There is planned to be a scene were SF08 gets an explosive present as he appeared near the end but it was scrapped.
This parody was named PBS' Crappy Christmas during production but it was renamed into A Stupid PBS Christmas.
Community content is available under
CC-BY-SA
unless otherwise noted.