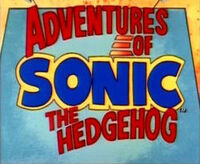 Adventures of Sonic the Hedgehog is an American animated series produced by DiC Animation City and Bohbot Entertainment that is based on the Sonic the Hedgehog franchise produced by Sega.
In Kuboia, the show has aired on a variety of different channels. It premiered in the country on Bumper's Block in August 1993 (about a month before the show's US premiere). Reruns have since aired on Nick Jr. Kuboia, Boomerang and Tooncast.
For unknown reasons, only about half of the 65 episodes were ever broadcast on Nick Jr. Kuboia.
Broadcast history
Age rating
Most episodes of the show were rated K by the Leisure Rating Association. Although some episodes were given a YC rating instead.