Angélique Vlokozu (born December 29, 1965) is a El Kadsreian activist and military leader who is one of the two adopted daughters of Michael Vlokozu. She is the current commander-in-chief of the El Kadsreian Coast Guard. She was President of El Kadsre from 2012 to 2015.
Bio
Born in Papaïchton, French Guiana, she was adopted by Michael in June 1967 from an orphanage in Paris, France. Her biological father is Ndyuka and her biological mother is Afro-Venezuelan.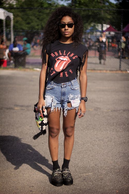 After the formation of El Kadsre, the Vlokozu family was treated with disrespect for a brief period and so Angélique and part of her family fled to Belgium and went into exile. In 1996, she returned to El Kadsre.
Community content is available under
CC-BY-SA
unless otherwise noted.