Baidu America is the English version of the so-called Chinese Google called Baidu. American Baidu is known for being blocked in China, with a "English" Chinese server that unblocks it for English people.
First experience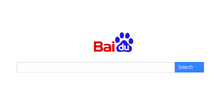 You will first enter en.baidu.com. Then, once they search and they don't have a account (plus it's their first time), it will give a ad for Signing up to the English Baidu and save everything you searched, so you can search stuff you already searched. Otherwise, it will not save anything, because it needs account cookies to do that but the user won't let them do that.
Account experience

The homepage will have top sites and the same as before to start a new search.
It also provide service links, which are not provided in the picture (left).
Baidu-made redirections
This is a list of websites that their link will redirect you to Baidu's version with BIDU USA.
Community content is available under
CC-BY-SA
unless otherwise noted.