Do Not Disturb is a Thursday, Friday and Saturday night programming block broadcast on TV3, Fox and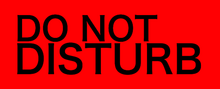 V5 in the Euro Republics, launched in 2005. It airs on Thursdays on V5, Fridays on Fox, and Saturdays on TV3, airing adult animation (mostly from Fox, Adult Swim and Comedy Central) and anime (in association with Crunchyroll). It was announced in 2020 that the block would become a brand through the streaming service Crave, along with a premium cable channel of it's own right, the price was the block. On July 10th, 2020, it was announced Do Not Disturb would return to its block format on July 17th, 2020, replacing FX, who had taken its timeslot once DND shut down earlier that year. FX would have broadcast for 12 years by the time it shut down.
History
Do Not Disturb launched on September 3, 2005 as a Saturday night block on TV3 airing from 11pm to 3am, initally it was billed as "Super Saturday after dark" refering to the fact it aired after said block. The first show was the Family Guy episode "North By North Quahog" followed by the pilot episode of Aqua Teen Hunger Force. The block was successful with audiences and prompted EuroMedia to launch a Friday night DND on sister channel C4, due to C4 having less new content on Friday nights, DND Friday launched and aired from 9pm to 5am, while TV3 continued to air Do Not Disturb on Saturdays.
When V5 launched in 2008, DND Thursday was launched there.
In 2020, the block was closed and DND became a 24-hour channel of it's own right.
Later in 2020, it was announced that DND would come back to TV3 and Fox. It replaced FX on Fox, which had taken its timeslot once DND moved to a channel. FX had been broadcasting for over 12 years by the time it shut down.
Community content is available under
CC-BY-SA
unless otherwise noted.