Emily Ava Matthews (June 12, 1942 - March 5, 2017) was an English actress, writer, and director. She was best known for playing as Boomette in the 1990 zombie film Left 4 Dead 2; Paula McFadden in the 1977 film The Goodbye Girl, and Agent Jane in the 2000 film Bait.
Early life
Matthews was born on June 12, 1942, in Burnham-on-Sea, to Margaret, a radio presenter for the BBC, and Bernard Matthews, a film actor and director.
Career
Acting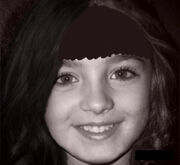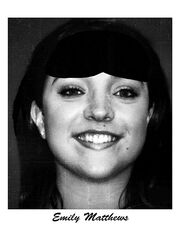 Emily Matthews started her own acting career at age 6. Her first film was in the 1955 film Children Galore as one of the kids at the end of the movie. She appeared in many British movies until late 1964, when she decided to move out of England and move to America to marry George Johnson. She appeared her last film ever made before heading to America was What's New Pussycat.
Her first American film was the 1966 film, Agent for H.A.R.M., played Ava Vestok. She appeared as Gia Campbell in the 1968 film, Buona Sera, Mrs. Campbell.
In 1970, Matthews auditioned for the role of Blonde Cult Member in I Drink Your Blood, losing out to Iris Brooks.
In 1977, Matthews, age 34, was cast as Lauren Humphries in the film, The Car. In the same year she played as Paula McFadden in the film, The Goodbye Girl. In 1978. She played as a reporter in the film Up In Smoke.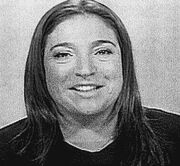 In 1980, Matthews was auditioned for the role of Elaine Dickinson in the comedy film, Airplane!. But the role went to Julie Hagerty.
In 1981, she played as a sex education teacher in the horror comedy film, Student Bodies.
In 1982, she played as Dr. Judith Kutter from the horror film Basket Case.
In the same year she played as a babysitter in the film Death Valley. Also the same year she also played as Mrs. Stegman in the crime action film, Class of 1984. Also the same year. She made a cameo appearance along with her daughter in the horror film Monster House.
In 1983, Matthews, was cast as Ophelia in comedy film, Trading Places. In the same year, she appeared in British horror film Screamtime.
In 1984, she appeared in the TV film Threads and documentary The Times of Harvey Milk.
In 1985, Matthews played Mrs. Peacock in the film Clue.
In 1990, she was played as an infected fat zombie Boomette, or people calling her Female Boomer in the zombie film Left 4 Dead 2.
In 1992, Matthews was cast as Helen Robertson in the horror film Sleepwalkers.
In 1995, she played as Ramόn Sánchez's mother in the crime film Hackers. In the same year, she made a cameo appearance as a movie theater goer in the film Outbreak.
In 1997, Matthews was cast as Delilah in the comedy film Bean.
In 1998, she played Professor Ruth Allen in the film Krippendorf's Tribe.
In 1999, Matthews starred in the black-comedy film American Beauty.
In 2000, she appeared in three films like, Thomas and the Magic Railroad as a cameo role. Bait starring Jamie Foxx, and O Brother, Where Art Thou? Played as Old Woman who listened to Homer Stokes on the radio.
In 2004, Matthews starred in action film Peter's Life as Aunt Patty. This film was her last acting performance before her retirement and her death in 2017.
Voice acting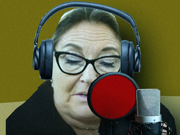 Matthews was ready to plan for the next step in her career. She has never done voice-over work in the past. So her daughter, Hailey told her to do voice-over work. She agreed to do this.
Voice acting briefly began in late 1981, when she voiced Howard in the animated short film "New Friends".
After recording was finished, she decided to stick around with on-screen roles until early 1990, when she decided to start voice-over work again, after they moved to Los Angeles for her daughter's acting career revival. She joined Saban Entertainment as a voice actress in mid 1990.
In late 1996, she left Saban Entertainment, and joined DIC Entertainment in late 1994.
In 1990, she voicing The Blue Fairy in Pinocchio: The Series.
In 1993, she voiced as Widow Douglas in Saban's The Adventures of Huckleberry Finn.
From 1995 to 1996, Matthews voiced as What-a-Mess' Mother in the cartoon series What-a-Mess.
In 1996, Matthews voiced as Queen Victoria from an episode of Saban's Adventures of Oliver Twist.
In 1999, Matthews voiced as Queen Aleena Hedgehog in the animation series Sonic Underground.
She was originally going to be voiced as Miss Grundy in Archie's Weird Mysteries. She did record her lines, but she collapsed near the end of recording and was later diagnosed with Multiple Sclerosis. After that, she was forced to retire from both acting and voice acting.
Post-Acting Career
After she got MS in late 1999, Matthews was forced to retire from acting, and begin a new job as a writer and started her own company called Matthews' Books.
Matthews was a longtime attendee at fan conventions for Left 4 Dead.
In later years, Matthews appeared on television sporadically.
In 2001, she appeared in a commercial for a book that she wrote called "My Daughter was a Actress".
In early 2008, she appeared in a commercial for the video game World of Warcraft.
In early 2009, she founded the Emily Matthews Foundation, a nonprofit organization that helped improve her life and recover from MS until 2016.
Personal life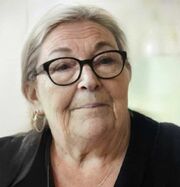 Matthews has a younger sister named Verna. Unlike her older sister, who moved to America. She stayed in Britain with her parents. In September 1999, she reunited with her older sister after she moved to America. She stayed in America until her older sister's death.
Matthews first met George Johnson, an American writer, producer, director, and actor, at the airport after she first moved to America. And the couple were later married on March 26, 1965.
Matthews gave birth to her son Daniel in 1966. And then the following year, she gave birth to her daughter Hailey.
On March 19, 1972, Matthews gave birth to her youngest son Derby.
From late August to early September 1982, she, her husband and daughter went to England to film the movie "Screamtime".
When her daughter announces that she has returned to acting, she and her family move to Los Angeles.
On September 4, 1991, during the last day of filming for Sleepwalkers, she can't see the script. So her daughter brought her glasses and started wearing it for the rest of her life.
In 1994, her voice changed due to the fact that she was diagnosed with throat cancer and later recovered.
In late 1995, her husband, George Johnson, was diagnosed with lung cancer. She and her daughter were devastated when that happened.
Thankfully, in 1996, he recovered from lung cancer, and will continue working on TV and Films.
But sadly, on November 14, 1997, when her husband Johnson died of heart failure at age 59, Matthews and her daughter attended his memorial service a few days later. She was heartbroken over her husband's death. After Johnson's death, she decided to finish her husband's unfinished film Half-Life, which was later released on November 19, 1998, a year after Johnson's death.
In the summer of 1999, she married Alan Matthews, who first met her when he was at Johnson's memorial service.
In late of that year she was diagnosed with Multiple Sclerosis or MS; that meant that after 51 years, she was forced to retire from acting to become a writer for her book called "My Daughter was a Actress" by Emily Matthews, and start her own company called "Matthews' Books".
And since she has Multiple Sclerosis, she now has both a wheelchair and a scooter for the rest of her life until late 2011 when her daughter brought her a WalkAide for treatment of MS.
Illness and death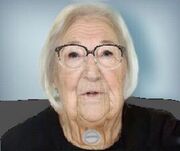 In September 2014, 72-year-old Matthews noticed something was wrong with her voice. It was a raspy voice. That could have caused her oral cancer, because she started smoking at age 26. She decided to quit smoking after she got a raspy voice and her cancer. Doctors were able to remove her voice box to save her life and she was cancer-free.
In May of 2016, Matthews suffered a severe stroke and was hospitalized in intensive care.
On March 4, 2017, Matthews suffered a massive seizure and slipped into a coma. And on March 5, her family removed her from life support. She later died from pneumonia at the age of 74.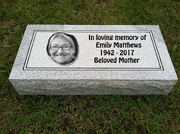 Her funeral was held on March 9 at Clarity Funerals & Cremation. She was buried in Los Angeles National Cemetery.

Filmography
Actress
Film
Year
Title
Role
Notes
1955
Children Galore
Unnamed girl
Her first on-screen acting role
1959
Sapphire
Patsy
1961
Dangerous Afternoon
Lizzie
1963
These Are the Damned
Joan
Filmed in 1961
The Haunting
Eleanor Lance
Horror film
1964
Devil Doll
Marianne Horn
Horror film
1965
What's New Pussycat
Her last British film role until 1983.
1966
Agent for H.A.R.M.
Ava Vestok
Her first American film role
1968
Buona Sera, Mrs. Campbell
Gia Campbell
1977
Audrey Rose
Janice Templeton
Horror film; with her daughter
The Car
Lauren Humphries
Horror film
The Goodbye Girl
Paula McFadden
Romantic comedy-drama film; with her daughter Hailey Matthews.
1978
Up in Smoke
Reporter
Comedy film
1979
Full of Funny Jokes About You
Comedy film; Also director
1981
Student Bodies
Sex Education Teacher
Horror comedy film
New Friends
Howard
Voice; Her first voicing role
1982
Basket Case
Dr. Judith Kutter
Horror film
Death Valley
Baby Sitter
Horror film
Class of 1984
Mrs. Stegman
Crime action film
Monster House
Cameo
Horror comedy film; with her daughter Hailey Matthews.
1983
Trading Places
Ophelia
Comedy film

Living In The Swamp

Josie Ross

Horror film
Screamtime
British horror film; Filmed during her family vacation.
1984
Threads
British war drama film
The Times of Harvey Milk
Herself
Documentary
1985
Clue
Mrs. Peacock
Black comedy mystery film
1987
Left 4 Dead
Screamer
Horror comedy film directed by George Johnson; Cut from final edit of movie
1990
Left 4 Dead 2
Boomette
Horror comedy film directed by George Johnson; with her with her daughter Hailey Matthews.
1992
Sleepwalkers
Helen Robertson
Horror film
1995
Outbreak
Cameo
Disaster film
Hackers
Ramόn Sánchez's mother
Crime film
1997
Bean
Delilah
Comedy film
1998
Krippendorf's Tribe
Professor Ruth Allen
Comedy film

Left 4 Dead 3: Back 4 Blood

Holly's Mom
Horror comedy film directed by George Johnson; with her with her daughter Hailey Matthews as Holly.
1999
American Beauty
Black comedy film
2000
Thomas and the Magic Railroad
Cameo
Children's adventure film
Bait
Action comedy film
O Brother, Where Art Thou?
Old Woman
Crime comedy-drama film
2002
George Johnson: Sweetest Man in Hollywood
Herself
Filmed in late 2001; Documentary directed by

Alan Matthews

2004
Peter's Life
Aunt Patty
(Final acting role)
Television
Director
Film
TBA

Television
TBA