Esgatan is a country in North America, bordered to the United States and the Dominican Republic.
History
New American Baybayin (1240-1301)
French Colonization (1301-1351)
Spanish and Filipino Colonization (1351-1450)
Esgatan Cold War (1450-1675)
1st Esgatan Empire (1676-1743)
2nd Esgatan Empire (1744-1880)
3rd Esgatan Empire (1881-1981)
4th Esgatan Empire (1982-Present)
Territories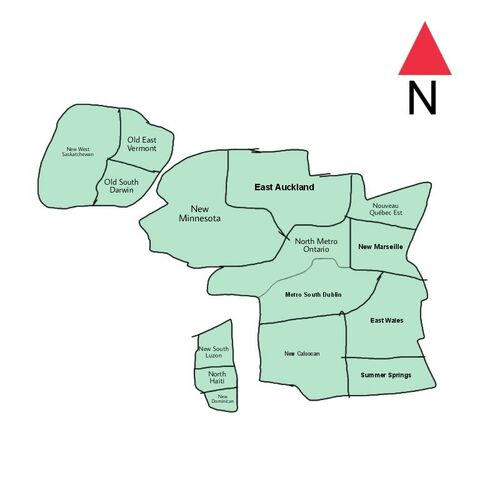 Esgatan has 15 territories.
Metro Panila
Batangtes
Hardanka
Jerutas
Maraselles
Ceboka
Kugüindo
Zamburres
Mindattes
New Caloocan
Quezonice
Rizakami
Montralawan
Genezon
Sulyon
Cuisine
Somee popular dishes are French, American, Filipino, and Spanish-influenced. The national dishes are Hors D'Œuvres Avec Adobo, and Pork Rib Bistek with Baguette & Mushroom Gravy.
Media
Public Television channels
The Filipino public television channels are:
EBC TV1 (GXKA-DTV, ch 1)
EBC TV2 (GXKB-DTV, ch 2)
EBC TV3 Panrehiyon (GXKR-DTV, ch 3)
Balita EBC24 (CS)
EBC Kapamilya (CS)
EBC BS1
EBC BS2
EBC BS Premium
EBC English
EBC Spanish
The French Public Television channels Are:
RTEF Une (GXFA-DTV, ch11)
RTEF Deux (GXFB-DTV, ch12)
RTEF Trois Régional (GXFR-DTV, ch13)
RTEF Le Info (CS)
BS-RTEF Une
BS-RTEF Deux
BS-RTEF Premium
Private TV Channels
Filipino TV channels:
PTV4 (GXKR-DTV CH4)
TV5 Esgatan (GXLK-DTV Ch5)
IBC Esgatan (GXBN-DTV, CH6)
GMA Esgatan (GXDB-DTV ch7)
RGN Esgatan (GXTZ-DTV ch8)
Panila FY (GXFY-DTV, CH9)
Heart of Asia Esgatan (CS)
GMA News TV Esgatan (CS)
Hallypop Esgatan (CS)
CNN Esgatan (CS)
UNTV Esgatan (GXJH-DTV ch10)
French TV channels:
TFE (GXBV-DTV, Ch14)
RDE (GXND-DTV, ch15)
TVE (GXIR-DTV, ch16)
TVP (GXNX-DTV, ch17)
TVA Esgatan (GXCX-DTV, Ch18)
EFTV (GXLA-DTV, ch20)
Filipino BS
BS-PTV
BS5
BS-IBC
BS-GMA Rainbow
BS-RGN
BS15
French BS
BS-TVE
BS-Esgatan
BSA
BS-EFTV
Private State Channels
Batangtes

BBT (GXKH-DTV, CH3)
BTU (GXCV-DTV, PTV4, CH5)
BFT (GXJJ-DTV, RDE CH6)
BGT (GXBG-DTV, GMA7, CH7)
BRT (GXIU-DTV, RGN, CH8)

Hardanka

HTV (GXYA-DTV,GMA ch 6)
HRD (GXSQ-DTV,RGN ch 9)
HST (GXHS-DTV,PTV4 ch 10)

Jerutas

JGT (GXJX-DTV,GMA ch 5)
JTV (GXKU-DTV,RGN ch 6)
JBS (GXPS-DTV,PTV ch 8 & GXPS, ERS 1740Khz)

Maraselles

MBC (GZWJ-DTV, PTV ch 4, GZWJ, ERS 735Khz)
MST (GXZA-DTV, GMA ch 7)
RMB (GXYE-DTV, RGN ch 8)

Ceboka

CTB (GXCJ-DTV, PTV CH4)
RCB (GXUR-DTV, GMA ch7)

Kugüindo
Zamburres
Mindattes

MTC (GXJT-DTV, PTV CH4)
MFT (GXAX-DTV, RDE CH6)

Quezonice

QTV (GXAX-DTV, CH3)
EBC (GXKO-DTV, PTV4, Ch 7)
QRT (GXHA-DTV, RGN Ch 8)

Rizakami

RDE
GMA
RRB (GXNA-DTV, RGN CH8 And GXNA, ERS 840khz)
EFTV

New Caloocan
Montralawan
Genezon
Sulyon
Paid TV Channels
Movies

HBO
HBO2
HBO3
Pinoy Box Office
HBO Signature
CINEMAX
FOX Movies
FOX Action Movies
FOX Family Movies
FXM
IFC
Paramount Network
Sundance TV
TCM Cinéma

Lifestyle

FX
FXX
Nat Geo People
HGTV
Travel Channel
TLC
Lifetime
LUXE.TV

Documentary

Nat Geo Wild
National Geographic
Discovery
Science Channel
Ushuaïa TV
Love Nature UHD
Animal Planet
Animaux TV
Discovery Showcase UHD4K

Entertainment

FOX
FOX Life
Comedy Central
Comedy Central Extra
WarnerTV
AMC
GSN
Tagatainment TV
Kapamilya Channel
MTV
MTV Live
MTV Music
MTV Hits

Kids

Nickelodeon
Nick Jr
Nick Toons
Disney Channel
Disney XD
Disney Junior
Disney Cinemagic
Cartoon Network
Cartoon Network XD
Boomerang
Tooncast
ZooMoo
Pop Kids
Pop Max
Tiny Pop
Baby TV

News

ABS-CBN News Channel
Al-Jazeera Français
CGTN-F
CNBC-Esgatan
MSNBC Esgatan
FRANCE 24
Bloomberg TV

Sports

DSport 1
DSport 2
FOX Sports
FOX Sports 2
FOX Sports 3
FS1
FS2
Rugby Pass
ESPN
ESPN2
ESPNews
Cricket Plus
WWE Network
Film Companies
Pathé! Esgatan
Esgatan Sunrise Pictures
EBC Mga Kasosyo sa Pelikula
Pietré Films
Musics
The genres are Pinoy-Pop and French-Pop.
Radio Stations
EBC Radyo Isa
EBC Radyo Dalawa
EBC Radyo Tatlo
RTEF La Une
RTEF La Deux
RTEF La Trois
RDE - GXLZ
RGN Radyo - GXHG
GMA Radyo - GXBB
Patoke Station (GXOS-FM, 88.1Mhz)
Ultra Station (GXNA-FM, 92.6Mhz)
Classic 103.6FM (GXGD-FM)
Ratings System
The FTÉE ratings are:
Television

T - Toutes les personnes/Lahat po (Everyone)
13+ - Supervision d'un adulte/Pangangasiwa ng Matanda (Adult Supervision)
L - Limité/Pinaghihigpitan (Restricted), DTT Broadcast from 10PM-6AM. / Pay TV Broadcast at 24h.

Movies

T - Lahat /Toutes les personnes (Everyone)
10+ - Edad ng Pangangasiwa ng Matanda 10./ Supervision d'un adulte âgé de 10 ans. (Adult Supervision Aged 10)
13+ - Ang mga manonood na may edad na 13 Taon ay hindi Angkop para sa Mga Bata/ Ne convient pas aux enfants de 13 ans (Not Suitable for Children under 13+)
15+ - Hindi Angkop para sa Mga Bata na wala pang 15 taong gulang pataas /Ne convient pas aux enfants de moins de 15 ans et plus (Not Suitable for Children under 15 and above)
17+ - Pinaghihigpitang Madla / Audiences restreintes (Restricted Audiences)
Magazines
Elle
Fashion At Trendy
AliwanMax
tvguide.en
LalakiMag
MobMag
HyperGamers
Newspapers
Bagong Pilipinas Araw-araw
Enquêteur quotidien d'Esgatan
Esgatan Horizon Daily
El diario del Imperio Esgatan
Technology
The Esgatanese drive on the right, just like the Philippines, United States, Canada, Spain, France, etc.
The Esgatanese standard plugs and sockets are A, B, C, E And O, just like Thailand, Japan, Vietnam, United States, Canada, France, etc.
Esgatanese mobile carriers and telecommunications are Esgatan Telecom, Globe Telecommunications, TrueMove 5G, Smart Pinoy Esgatan, Orange, Telus, and EsgaMobi.
Esgatanese pay TV providers are Cignal TV, GSat TV, Canal+, TrueVisions, Sky Direct, SkyCable, and Globe TV.
The Esgatanese digital TV format is ISDB-T.
Esgatanese uses NTSC format for TV broadcast, video games, movies, home entertainment systems and computers, just like the US, South Korea, YinYangia, Canada, and many more. When an Esgatanese station signs off, the test card is SMPTE Color Bars.
Community content is available under
CC-BY-SA
unless otherwise noted.