The Federal Republic of St. Lawrence (République Fédérale du Saint-Laurent in French) is a federal republic that is in North America, that is located just near (northern) United States and (southern) Canada. Capital at Norwich and largest city at Lim Tua Co (both of which are at the Laurentian NCR), the country has a multicultural population, just like its neighboring countries Canada, the United States and Esgatan (which is not a neighboring country of St. Lawrence). Other known neighboring countries of St. Lawrence include Pechalsalavia, Gyrusisistan, the Mushroom Kingdom (although it is a thousand kilometers away from the tip of the country's largest island), and the Noobian Islands.
Government
St. Lawrence is a federal republic, just like the United States. The president is the head of state and the chief of the government. The president resides from the Maison des Résidences (Residential House) in Norwich.
Demographics
Although St. Lawrence is primarily made up of humans, many other ethnic groups have joined the country in the past years.
Population (by species)
67% of STL is made up of humans, 12% of Toads, and 11% Yoshis. Those are the majority, but around 4% are Koopas, 2% Bob-ombs, 2% Shy Guys and/or Bandits, 1% are Bumpties, and the remaining 1% are Piantas.
Population (by language spoken)
St. Lawrence, just like Canada, is a multicultural country, many foreigners working or studying here.
Note: This only counts humans, though.
Majority languages:

English (77%)
French (13%)

Minority:

Spanish: 6%
Filipino: 0.5%
Bahasa Melayu: 0.5%
Chinese (either Mandarin or Cantonese): 0.5%
Punjabi: 0.5%
German: 0.5%
Japanese: 0.5%
Danish: 0.5%
Native Indian: 0.5%
Provinces
St. Lawrence is divided into 19 provinces and 1 capital region, the Laurentian National Capital Region. All provinces' names are named after North American or European places and cities, while one is named after a known location from the Mario franchise.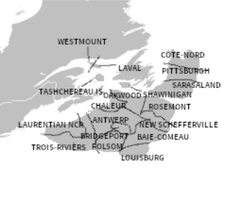 Here is the list of provinces (from coast to coast), and its capital:
Folsom: Stratford
Louisburg: Edmonton
Antwerp: Berkeley
Bridgeport: New Potsdam
Baie-Comeau: New Liberty
Chaleur: Edison
Oakwood: New Richmond
New Schefferville: New Schefferville
Rosemont: Rivière-du-Loup
Westmount: Westmount
Laval: New Ottawa
Taschereau Island: St. John
Shawinigan: Perrot
Sarasaland: Byzantine
Pittsburgh: Noank
Noranda: Côte-Nord
History
Editor's note: This only tackles about the white man in St. Lawrence. The only known mentioning of the Native Indians here are they went onto a part of St. Lawrence during the Ice Age.
Discovery and colonization of both the British and French (1498-1759)
When John Cabot, a Genoese navigator working for England, discovered (probably) Cape Breton Island in 1497, he also sailed to what is now the provinces of Chaleur and Oakwood, in St. Lawrence's largest island, Consul Island. The following year (1498), Cabot again returned, this time discovering Baffin Island, Newfoundland and Labrador, and also the second largest island of St. Lawrence, Bayer. Before he returned to England and died, he sailed across what is now Oakwood Strait.
In 1519, Max Franklin, an Englishman, sails to what is now the southern part of Trois-Rivières. He then claimed the land for England. A few years later, in 1534, when Jacques Cartier, a Frenchman, before he even discovered Quebec, he sailed to where Cabot sailed in 1498, and discovered two of St. Lawrence's islands on the Gulf of St. Lawrence, Anticosti and the Magdalen Islands. The following year, in 1535, Cartier and his party stayed in the northeastern part of what is now the Laurentian NCR. A few years later, now this time in 1578, Jean Rivard, another Frenchman, claimed most parts of the western Consul Island, and also the islands of Shawinigan, Magdalen, and Anticosti.
Samuel de Champlain, in July 5, 1608, he discovered a part of what is now the province of Pittsburgh, then he went into a part of what is now Folsom. While the French are still discovering other parts of the country, the Englishmen founded a settlement in the present-day city of Murdochville, in 1592, then also in the present-day location of Louisburg province, then also the present-day city of Lim Tua Co, in the Laurentian NCR today (the name of the Anglophone settlement was known as Walvis).
Paul de Chomedey, sieur de Maisonneuve, thus founded the settlement of what is now New Carlisle in 1642, before even founding Montreal in the mainland North American continent. The population in Walvis reached 1,928 in 1659, while New Calais reached 992. Peace between the two settlements happened between 1660 to 1752. An Anglo-Indian war started in 1752, then finally, a full-scale battle between the French and the English, in 1754. The settlement of the French, New Calais, surrendered in 1759. Just like that, (almost all of) the French were fully-driven out of North America in 1763.
The English takes full control (1759-1864)
The English took full control of both the French and English settlements by 1768. Even before that, Norwich, which would-be the future capital, was founded in 1760. The Antwerp Act, an act passed in 1773, united Walvis and New Calais into Antwerp. Many more settlements were founded during this era, and the Brits finally explored (almost) all parts of the country in 1799. Once again, a peaceful era happened, but only for a while.
Americans colonize the country (1838-1868)
Before even Americans explored St. Lawrence, the Brits, in 1811, renamed Antwerp into Laurentia.
In 1838, an American named Tom Argall explored an sailed over the Rivière St. Paul, then he claimed it for the Americans. The Brits were shocked on this, they thought they had explored all parts. The Americans found New Virginia in 1842. New Virginia's population in 1857 is 300,182, while all of St. Lawrence is 829.219 (that includes the earlier-mentioned American colonists in New Virginia). The American Civil War in the mainland started in 1861, then another war between 1863 and 64 between the two nationalities fighting for St. Lawrence. The Americans would thought that they would lose because of the aforementioned Civil War. However, the Americans won the war in 1868. After the ending of the war, the British gave all of St. Lawrence to the Americans thru a treaty.
Americans fully control the country (1868-1947)
This era, for most Laurentians, is the best overall of its history.
The Americans were now the colonizers of the country, and it made another peaceful era, which still goes today. Many milestones happened also on this era. Here are milestones and the changes during this era:
Transportation
At this era, the transportation industry changed. The Pan-Laurentian railway was completed in 1884, and thus the Laurentian National Railway was formed.
Media
Television
Most of St. Lawrence's TV networks are international counterparts of American TV networks, because of acquisitions and change of affiliation of some local networks and stations in the 80s.
For full info about TV in the country, see Television in St. Lawrence.
*= indicates an international counterpart.
Central Sports Channel*
Nickelodeon*
Cartoon Network*
Disney Channel*
Télévision réseau de central*
Canal Info*
Canal D*
Arte*
ITV Network*
Koopa Troop Television Network*
DuMont Television Network*
NBC*
CBS*
ABC*
St. Lawrence Programming Television* (ABN stands for American Broadcast Network, fyi)
Game Channel*
Rainbow Dash Network*
HBO*
CNN*
Sky News*
Laurentien Français Télévision
Auto Focus Network
Racing Sports Network
ABS-CBN*
TVA
MTV*
3sat
TV5Monde*
FOX*
UPN* (UPN means United Paramount Network)
MyNetworkTV*
The CW*
MeTV*
Heroes & Icons*
Telemundo*
Laurentian Public Broadcasting (the PBS of the country)
Danmarks Radio (both DR 1 and DR 2)*
France 24 (both the English and French feeds)*
The National Television*
Euronews*
MSNBC*
Bloomberg*
CNBC*
Franceinfo (the TV version)*
France 2*
La 1ère (TV)*
RTBF La Une*
Radio
Central Radio*
Radio réseau de central*
Bell Radio
Radio N24
Weigel Radio Network
Newspapers
English
The Norwich Times
Murdochville Journal
St. Lawrence Today
Westmount Gazette
French
Le Monde
Journal de Trois-Rivières
Community content is available under
CC-BY-SA
unless otherwise noted.