Futaba Racers (双葉レーサー, Futaba rēsā) is a Japanese Racing Game Created by Futaba Games in the Year 2003.
Gameplay
You Choose your Character you want to race, then you choose a kart, You could press the A (B for the Super Famicom Release) Button to Accelerate and the B (Y for the Super Famicom Release) Button to Decelerate, You Can Press The Arrows on the D-Pad to Move on your Direction, The Super Famicom Version uses the Super FX chip for Scaling and Rotating Sprites, Otherwise, The Game should Have Separate Sprites (depending on the Position), The GBA Version uses the Same Graphics Mode as Mario Kart: Super Circuit, It Uses ME-Tan and Other characters from Futaba Channel.
Microsoft Racers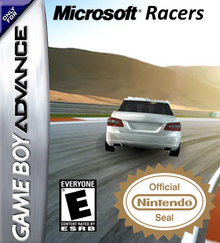 Microsoft Racers is a separate Release of Futaba Racers released outside of Japan for the GBA, It Features ME-Tan And Office Assistants (such as Clippy), This Release Removed Fire on Cars (as it was too offensive) as well as Religious References (due to Nintendo's Censorship Policies), The Game is fully translated into English.
Fish Racers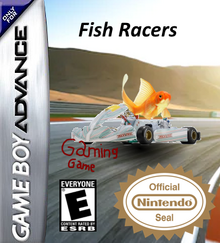 Fish Racers is The Same Game as Microsoft Racers, Except this time, It Features Fishes from Fishing Simulator, This Led to some fans thinking that The Game is a ripoff or a sequel, They Are Separated Because Futaba Racers not only Features Characters from Futaba Channel, but it also contains characters from Gaming Game.
The Localization Team Stated in an interview with IGN:
We Split The Game into Two Just Like How Sega Splitted Sonic 3 into Two Games.

The Races Has Also Changed to look more aquatic.
Instruction Manual
Main Article: Futaba Racers/Instruction Manual
This Game Includes an Instruction Manual.
Trivia
This was The Last Super Famicom Game to be published by Futaba Games.
The Demos show the Age Rating at The Start.
Community content is available under
CC-BY-SA
unless otherwise noted.