Greeny Phatom is an American-Canadian animated sitcom created by Robert Stainton. The show centers on the fictional character Little Guy, the ruler of a city called 123 Greeny Phatom.
The series first aired on August 13, 1995, and ended on April 25, 2020.
Cast and characters
Character

Voice Actor

Little Guy
Robert Stainton
Little Girl
Katie Belshaw
Doctor
James Sharp
Dr. Beanson
Smith Akin
Gary's Mom
Sonja Ball
Gary's Dad
Michel Perron
Gary
Bryn McAuley
Santed Sailor
Robert Stainton
Dr. Mother
Sonja Ball
Moctor
Bronwen Mantel
Bob Beanson
Vlasta Vrana
Beanson
James Sharp
Dr. Clown
Torquil Campbell
Green Bob
Tom Kenny
Dr. PBS
Denis Akiyama (Seasons 1-23)
James Sharp (Season 24-present)
Dr. Viacom
Alain Goulem
Dr. Beanclownson
Guy Nadon
Walter
Ted Cole
Gum
Tony Daniels
Gangster Sailor
Garry Chalk
Little Guy 2
James Clayton (Seasons 1-19)
Paul Kloppers (Season 20-present)
Little Guy 3
Rick Jones
Little Guy 4
Terrence Scammell
Little Guy 5
Jesse Gieser
Little Guy 6
Taylor Robinson
Little Guy 7
Frank Welker
Little Guy 8
Albert "Crack" Angioni
Little Guy 9
Terrence Scammell
Little Guy 10
Sonja Ball
Little Guy 11
Nate Stainton
Scratchy
Rick Jones
Geo Guy
Gabriel Garcia
Gree Guy
Greg Garfield
Episodes
Main article: Greeny Phatom/Episode Guide
Video games
Main article: Greeny Phatom/Video Games
Production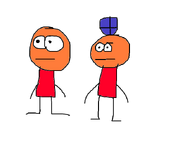 In 1989, Robert Stainton created two characters, Big Guy and Dr. Benson, which would later become Little Guy and Dr. Beanson. He called the series "Greeny Phantom" at first, but a copyist made an error when creating his business card, instead of spelling it "Greeny Phatom", however, Robert decided to keep it as it sounded "unique". He and James Sharp first pitched the series to Filmation, who liked it but chose not to produce it because they were being sold. Robert later pitched the series to Hanna-Barbera (who rejected it because they thought it was "too stupid" of an idea for them), DiC Entertainment (who rejected it due to Andy Heyward finding the idea "more fit for a indie comic book"), Ruby-Spears (who rejected it due to Robert being absent due to an appendix operation), Warner Bros. Television (who rejected it due to James Sharp arriving late), and Walt Disney Television (who rejected it due to it being "screwed-up" and "creepy").
In 1990, Big Guy and Dr. Benson's names were changed to Little Guy and Dr. Beanson, Robert shelved the series in 1991, until Sunday, July 18, 1993, when James Clayton met Robert while on vacation, Robert told him of Greeny Phatom, James was interested, and signed a deal with CINAR, a Canadian company James worked at, to fund the series, Robert started working on the pilot episode, there was one problem though, Robert and James were only given a week to produce the pilot, and on short notice hired the Chicago-based animation studio Jeepney Films to produce the pilot. Studio founder Jhonny "Joe" Montemayor directed and co-produced the pilot with Robert and James, with Robert and his friends doing much of the voice acting. Jeepney Films completed the pilot with hours to spare as the deadline came.
As soon it was finished, Robert invited some kids to watch the test screening of the pilot episode with their parents, the pilot was test screened at an event at the Athenaeum Theatre in Chicago on Friday, January 21, 1994 at 5:30 pm, the parents found it "a bit too dark for kids", but the kids liked it, Robert decided to pitch the series to Fox Kids Network, and shortly after, Robert and James got a call from Haim Saban that the series was greenlight for 1995, the pilot episode aired on Saturday, October 29, 1994 at 10/9c, but the series wouldn't air it's first actual episode until Sunday, August 13, 1995 at 10/9c, it was aired on Sunday due to test which meant that the episode aired on the regular Fox Network, Greeny Phatom went on to be such a success that Robert and James went to the October 1995 MIPCOM in France where they put the series' foreign rights up for sale, and managed to get the series sold to 150 broadcasters worldwide successfully. Robert also signed a deal with Remco to produce toys for the series.
In 2000, Jeepney Films went on strike because they were paid less for their job as storyboard artists and external animation staff on Greeny Phatom. An agreement couldn't be reached in time, and as a result Jeepney Films were fired and CINAR's in-house animation team were sworn in as a replacement.
In late 2003, due to CINAR's growing legal issues, CINAR's animation team were replaced by Studio Lightbulb, a minor-league Japanese animation studio which was used as an animation outsourcing studio in some earlier episodes.
In 2014, Studio Ghibli stopped providing external animation due to a disagreement with payment for external foreign animation on Greeny Phatom and as a result, Studio Ghibli was replaced by GAINAX.
On December 29, 2014, the series' television producer and executive producer James Clayton died in a car accident at the age of 65.
In 2016, it was announced that Season 25 would be the final season of the series.
On March 20, 2019, The Walt Disney Company aqquired Greeny Phatom as part of Disney-Fox acquisition and started airing the series on Disney Channel and Disney XD.
On April 25, 2020, the series final episode "Goodbye to Little Guy" aired on Fox Kids, Disney Channel, Disney XD, The Greeny Channel and BBC America, marking the end to the series, the series was replaced by Mao Mao: Heroes of Pure Heart on The Greeny Channel after the final episode aired.
Controversies
"Reading Extreme CLG Signs"
The season 1 episode "Reading Extreme CLG Signs" has a scene where Bob Beanson says "another thing is that he needs to be a n*gger" which was written out of the Flemish dub of the series and replaced with "er is een probleem met deze logo, HET IS HELEMAAL NIET ZWART OF BRUIN!", this episode was skipped in the dutch dub of Greeny Phatom.
"Guthuili Coke Colar"
The season 2 episode "Guthuili Coke Colar" has a scene where Dr. Beanson gets shot by an angry Little Guy. The screen cuts to black in the UK and Spanish airings of the episode. In the Dutch and Flemish versions, it is cut out entirely.
"Grow Greeny Spot"
The Season 5 episode "Grow Greeny Spot", was banned in Germany, China, Taiwan, Hungary, Thailand, India, the Philippines, Bulgaria, the Middle East and North Africa, Malaysia, Poland, Spain, Ukraine, Estonia, Latvia, Portugal, and Norway due to its content being offensive, but all of said countries later pulled their ban, the scene where Dash and Dot are shown with guns was cut from the Dutch and Flemish dubs.
"I'm With British Stupid"
There is an episode that makes fun of British people that aired November 7, 2009 and is the 2nd episode of the 15th season of the Greeny Phatom, named "I'm With British Stupid". In UK DVD releases, this episode was not put on the list. In the UK, the episode was cut, meaning that the episode was the shortest episode of the season. Also, the title was changed to "Little Guy vs. The UK". One peer-to-peer website included the original version, and was sued by Ofcom a few seconds after uploading, then it was available in the show's website. It will be available in the UK release of the Greeny Phatom DVD Pack as a special feature.
Greeny Phatom was heavily edited on Cartoon Everything; to see the edits click here.
Greeny Phatom was heavily criticised by parent groups for "supporting hooliganisim", with parent group One Million Moms saying it was "Too Violent for Kids TV"
Lawsuit
Vladim Munieré filed a lawsuit against GreenyWorld Productions LLC and News Corporation in January 1996, saying that Robert Stainton had plagiarized a show that his great grandfather (Ross Munieré) made, Mr. Ant Guy & Friends, with Greeny Phatom. The court settled in favor of GreenyWorld, saying that "the character designs are merely a coincidence, the settings and names of the shows are different", the case was closed in July 1996 and GreenyWorld Studios acquired the Mr. Ant Guy franchise for 5 billion dollars in August 1998.
International broadcast
Main article: Greeny Phatom/International broadcast
Trivia
In some Greeny Phatom-related media Dr. Beanson works at a place known as "The Greeny".
When the characters were first created, their shirts were different, since Robert made them that way only to be changed twice.
Some episodes were made to make fun of YouTube trolls on the Internet.
Since December 2013, the show has had the "crappy animation" in 2012-2013 episodes criticized.
In 2015, the show was renewed for a 20th season. Because the fans missed the show so much, they decided to do it. It aired on January 4th, 2015. Now, the show airs new episodes every Sunday.
Keegan Limited and Former Mock Reviewers for Hire Productions announced the show's 20th Anniversary on 1/3/2015.
The series was banned in Russia until 1999 after Boris Yeltzin said that the show had a negative view towards russians, this happened after he found out that RTR acquired the Russian dubbing rights of the show, however, the ban was lifted in 1999 after Boris Yeltzin was replaced by Vladimir Putin as president, but the show would be heavilly censored from then on out.
The series was banned in Nigeria until 2007 after the president said it was too inappropriate for kids. The ban was lifted in 2007 after Olusegun Obasanjo was replaced by Umaru Musa Yar'Adua as president.
The European theme song/intro was licensed out to a game called "Phoenix Wright: Ace Attorney", but the original was made in Mario Paint. The name of the song in the game is "Detention Center", from the Ace Attorney series. The American one is a original composition.
Somehow in the Japanese version, during it's 1st sneak peak the announcer accidentally considered it as an anime.
Some episodes have the non-union voice actors using pseudonyms. For example, the pilot pitch has Georgia Denney credited as "Jeanette Smithee".
Greeny Phatom was airing on KTK Channel and Channel "Kazakstan" (Kazakh). It's called "Жасыл Фатом" (Zhasyl Futom)
Greeny Phatom has had it's toy license change multiple times. The license first belonged to Remco, but then Remco was bought out by Jakks Pacific and the license was sold to the RC2 Corporation in 1997 after just a short stint. RC2 then gave the license to ERTL in 2002, who then sold the license to a little-known company called Panache Place in 2006. Panache gave up the license in 2009 to McFarlane Toys, who then sold the license to MGA Entertainment in 2012, who in turn gave the license back to ERTL in 2015. It has stayed with ERTL since.
Greeny Phatom debuted for streaming on Netflix and Hulu in 2007, Greeny Phatom is currently also on Disney+ as of 2019, with many of the episodes being remastered.
A spin-off named Greeny Phatom: The Slimeo Take, aired on FX in 2015. It presents a whole new modern take on the show from the point of view of Greeny Phatom animator, Micheal Christchurch, with a blend of "what if" stuff along with it being aimed towards the young adult audience. Micheal has stated that the series is not canon to the main Greeny Phatom timeline.
There were two shows that continue as successors of Greeny Phatom. Greeny Phatom: After the Departure, a Disney+ exclusive series which follows the adventures of Little Guy after his departure from 123 Greeny Phatom, and Future Phatom, following the adventures of Dr. Beanson and Little Guy 2.
A documentary of the series' production is currently being made titled "Greeny Phatom: The Making of a Children's Series" made by Touchstone Pictures and distributed by Disney Media Distribution and released on August 13, 2020.
Schedules
Seasons 1-4: Saturday Mornings at 10/9c
Seasons 5-14: Saturday Mornings at 7/6c
Seasons 15-19: Sunday Evenings at 10/9c
Seasons 20-23: Saturday Mornings at 10/9c
Seasons 24-25: Weekday-Saturday Mornings at 10/9c (weekdays reruns only)
Gallery
Community content is available under
CC-BY-SA
unless otherwise noted.