Into the DragonVerse is an American traditionally hand-drawn animated action adventure musical comedy fantasy crossover film based on the traditionally animated show, Ruby: The Incredible Night Fury and its sister show, The Land Before Time: Adventures in the Big City and was directed by Brad Bird, and Dean DeBlois produced by FiddleGriff Animation and AmbIin Entertainment, and distributed by Walt Disney Pictures. Like other FiddleGriff movies, it solely uses 2D hand-drawn animation. The animation was done in-house at FiddleGriff's main studio in Los Angeles, California while additional overseas animation services were provided by Toon City Animation.
The film stars Meghan Strange, Issac Ryan Brown, Tom Holland, Will Ryan, Rob Paulsen, Stephen Merchant, Reba McEntire, Jess Harnell, Jay Baruchel, America Ferrera, Jack Gore, Christopher Mintz-Plasse, Jonah Hill, T.J. Miller, Jeff Bennett and Kristen Wiig.
The film features characters from other dragon related franchises and main characters from the forgotten Marvel comic series, DinoSquad. Of course not to mention various FiddleGriff characters...
The film takes place between the first and second seasons.
Summery
When Victor Veloci unleashes his most evil scheme yet by attempting to collide and destroy all the known MultiVerses, Ruby, the gang, and the DinoSquad team with a group of rebels known as The Freedom Fighters and embark on an amazing adventure through various MultiVerses to stop Veloci's evil plan. You might also see some familiar characters along the way...
Plot
TBA
Cast
Meghan Strange as Ruby the pink, young Oviraptor. She has the power to transform into a Night Fury dragon.
Issac Ryan Brown as Chomper the purple, young Tyrannosaurus Rex.
Tom Holland as Peter Parker / Spider-Man, a Marvel Comics superhero from the Spider-Man series.
Will Ryan as Petrie the young Pteranodon, TBA.
Rob Paulsen as Guido the Microraptor/Ruby's Father the Oviraptor
Stephen Merchant as Pterano, the Pteranodon and Petrie's uncle
Reba McEntire as Etta the Pteranodon
Jess Harnell as Swooper, a blind, elderly Harpactognathus
Jack Gore as Littlefoot, an Apatosaurus.
Jay Baruchel as Hiccup Horrendous Haddock III, a 15-year-old human Viking boy
America Ferrera as Astrid Hofferson, a 15-year-old human Viking girl
Christopher Mintz-Plasse as Fishlegs Ingerman, a 14-year-old Viking human
Jonah Hill as Snotlout Jorgenson, a 15-year-old Viking human
T.J. Miller and Kristen Wiig as Tuffnut and Ruffnut Thorston, a pair of 14-year-old quarrelsome Viking human twins.
Kirsten Dunst as Mary Jane Watson
Tara Strong as Virgil the dragon
Nika Futterman as Ruby's Mother the Oviraptor
Theodore Chrisman as Mickey Mouse, a member of the Freedom Fighters
Jesse Tyler Ferguson as Dr. Drake
Tom Kenny as Angel Dust, a member of the Freedom Fighters
Al Roker as News Anchorman
Nolan North as News Chopper
Joanne Moynihan as Ms. Moynihan 
Jeff Bennett as Professor Wilson 
Fiona Flagstaff as Fiona
Tress MacNeille as Petrie's Mother, a Pteranodon
Corey Burton as Theodore Ross, the general of the U.S. Military.
Production
TBA.
Songs
Kingston Calypso
Go Beyond by Elton John (Theme Song)
You're One of Us by Alan Menken
Kids in America by No Secrets
Bad Girls by Donna Summers
Here Comes The Sun by The Beatles (Finale scene)
TBA
TBA
TBA
Score
The score is composed by John Powell and Mark Mothersbraugh.
The Doctor of Fury (Opening Credits)
Street Thugs at 3 O' Clock!
It's Pizza Time
God Bless America
The Evil General
Something's Wrong!
Meanwhile at the DinoSquad HQ...
TBA
TBA
TBA
TBA
TBA
TBA
TBA
TBA
TBA
Charaters
Main Characters
Secondary Characters
Trivia and Fun Facts 
This is the first Land Before Time film since the original 1988 film to feature an on-screen character death.
Executive Producer Theodore Chrisman has described the film as "This is what happens when you combine both SpiderVerse and Who Framed Roger Rabbit together into one awesome movie."
During its theatrical run, the film was accompanied by a short film called Roller Coaster Demon, which is based off FiddleGriff's other animated series, Satina.
This was Brad Bird's first non-Pixar film since Tomorrowland (2015)
At $250,000,000, Into the DragonVerse holds the record as FiddleGriff Animation's most expensive movie to date.
This is the first Land Before Time film to be rated PG by the MPA.
This is the second Land Before Time film to use the Amblin Entertainment logo at the end.
This is the fourth film in which Petrie cries.
Littlefoot was originally not going to be included in the film, but he was eventually added because of fan demand.
Tobey Magure was unable to reprise his role as Spider-Man due to his involvement in Doctor Strange and the MultiVerse, so Tom Holland voices him instead.
This was the first Land Before Time film not distributed by Universal Pictures and 20th Century Studios. This was because the franchise was acquired by FiddleGriff Entertainment and newer LBT films are distributed by Walt Disney Pictures as part of the FiddleGriff's long-lasting distribution deal with Disney.

It is also the first How to Train Your Dragon film not co-produced by DreamWorks Animation.

TBA
MPA Rating
PG for Sci-Fi Action/Violence, Animated Blood, Thematic Material, Crude and Suggestive Humor, Language, Brief Images of Smoking and a Drug Reference.
Quotes
(Toothless charges up his plasma blast, right in front of Doofah and Foobie)
Loofah: LOOK OUT!!!
(Loofah pushes them out of the way, but unfortunately. The plasma blast hits Loofah)
Wild Arms: Loofah, NOOO!!!!!
(The gang runs up to the burned Loofah)
Littlefoot: Loofah...
Loofah: (coughs) Guys, come closer...
Doofah: What is it?
Loofah: (sighs) I'm sorry I let this happen. I needed to save you guys, but i had to make a choice, let you both go, or I go. So I chose to go... (Coughs)
Petrie: No...
Loofah: I'm sorry Petrie, I'm afraid my time here is over. I've had tons of fun with you guys. I just wanted to rescue my friends. (Holds Doofah and Foobie's hand) I promise I'll always remember you in the afterlife... Always... (Loofah lets out a dying groin and lyes stiff on the ground, dead)
Fishlegs: No!
(Tuffnut lowers his hat in respect)
Guido: (sighs) There he goes.
Etta: Hopefully he'll live a happier life in heaven...
(Hiccup enters the scene and is horrified to see the dead body of Loofah)
Hiccup: What happened here?
Doofah: It's Loofah, he scarified himself trying to save Me and Foobie!
(Toothless recovers from his savage state)
Hiccup: What?! 
(He Examines Loofah's dead body, seeing a plasma mark on his chest right at the heart. He is immediately filled with rage) 
Hiccup: (To Toothless) You— Ruined— Everything...
(Toothless groans)
Hiccup: How could you?! You killed an innocent dinosaur? YOU KILLED SOMEONE!!! WHAT IN THE MIGHTY NAME OF HERCULES IS WRONG WITH YOU, YOU SLIMY, STUPID, FAT SCALY BASTARD!!!
(Everyone gasps)
Astrid: Take it easy, Hiccup...
Hiccup: NO, I WON'T TAKE IT EASY, FIRST HE KILLED MY FATHER, NOW HE KILLED A DINO!!! I SHOULD'VE NEVER TRUSTED HIM!!! HE'S A MONSTER!!!
(Toothless gasps in sadness)
Littlefoot: No, it looks like you're the monster.
Tuffnutt: What you did to Toothless, we didn't sign up for!
Astrid: Our plan was to catch Veloci, that was it!!!
Hiccup: I SHOULD'VE NEVER JOINED YOU!!
Littlefoot: Never joined you? I'm proud you joined us in the first place! What you did to Toothless was unacceptable, he never meant harm!!!
Cera: Yeah, dummyhead!!!
(Hiccup, in a fury of rage suddenly snaps and slashes Cera's right arm)
Cera: (gasps as she sees a long bleeding slash wound on her right arm)
Littlefoot: WHAT DID YOU DO TO CERA?!
Hiccup: Enough is enough. We're going home...
Astrid: But Hiccup...
Hiccup: I said— ENOUGH IS ENOUGH!!! (Throws his fire sword on the ground and leaves)
Astrid: I'm so sorry Cera...
Littlefoot: It's okay, we should've never met Hiccup anyway.
Cera: (cries)
(Professor Wilson, and the other dragons watch in sadness)
Sequels
Opening Credits
Walt Disney Pictures and FiddleGriff Animation present
Into the DragonVerse
Starring Meghan Strange
Issac Brown, Will Ryan, Rob Paulson, Reba McEntire, Tom Holland
Stephen Merchant, Jess Harrell, Jack Gore, Jay Barachel, America Ferrera
Christopher M. Plasse, Jonah Hill, T.J. Miller, Kristen Wiig, Jeff Bennett, Jamie Foxx
Richard S. Horvitz, Corey Burton and Kelsey Grammer
Animation Director: Don Bluth
Production Designer: Theodore Chrisman
Production Manager: Charles Grovsener
Editors: John C. Mare and Marshall Harvey
Main Title designed by: Theodore Chrisman
Animation: Chris Sanders
(MPA, Dolby Vision/Atmos)
Assistant Director: Derrick J. Wyatt
Multiplane Camera Operator: Gilman Grossman
Technical Supervisor: Gary Goldman
Clean-Up Animation: Derrick J. Wyatt
Sound Designer: Gary Rydstrom
Digital Cel Supervisor: Chris Sanders
Background Designer: Gilman Grossman
Assistant Editor: Kathleen Kennedy
Special Effects Provided by: After Effects
Score Composed by: John Powell and Mark Mothersbraugh
Original Songs written by: Alan Menken
Theme Song sung by: Elton John
Ruby: The Incredible Night Fury theme played by: Michael Tavera
Screenplay by: Brad Bird
Based on the TV Series by: FiddleGriff Animation
Produced by: Steven Spielberg and Gary Goldman
Directed by: Brad Bird and Dean DeBlois
Opening Logos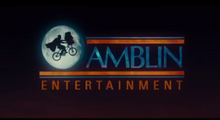 Community content is available under
CC-BY-SA
unless otherwise noted.