Jakestar4ever is an American animated television series created by Jony and Steve Runner for the Fox Broadcasting Company. The show first premiered on March 15, 1999 with the episode "Pilot", which led to a series of half-hour episodes.
The characters first appeared on the demo that the Brothers Runners pitched to Fox on January 31, 1989. The cartoons were adapted into a half-hour television series in April 1992. The success of the show's premiere helped Jony Television Animation make a spin-off series, A Day in Life of Snivy Guy, which premiered on April 17, 2011 and focuses on Snivy Guy's misadventures in the same place where the TV show take place, as well as a feature film, Jakestar4ever: The Big Epic Adventure Ever!, Which the movie was released in 2012, Jony and Steve was met with universal acclaim and being one of the third longest-running animated series in the United States, behind The Simpsons.
Home media (2001-2011)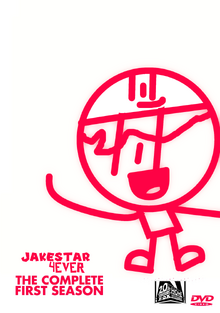 Starting in 2005, 20th Century Fox Home Entertainment released the first 4 seasons of Jakestar4ever on DVD for the 6th anniversary of the series.
on 2011, They re-released the first 3 seasons of Jakestar4ever on DVD for the 12th anniversary of Jakestar4ever.
Trivia
Snivy is the name of a Pokémon, too.