Jayde Smith (born May 27, 1999), is a Canadian-El Kadsreian voice actress and singer.
Bio

She was born in Carberry, Manitoba, Canada on May 27 1999. When she was 4, her parents moved with her to Capulco.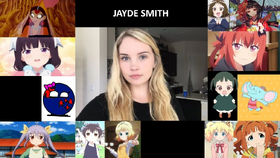 Roles
Maika Sakuranomiya in Blend S (English dub)
Yayoi Takatsuki in The Idolmaster: Anime (English dub)
Princess YumYum in The Princess and The Cobbler (El Kadsreian English dub)
Satanichia McDowell Kurumizawa in Gabriel DropOut (English dub)
Alice Cartelet in Kin-iro Mosaic (English dub)
Sharo Kirima in Is the Order a Rabbit? (English dub)
Miss New Zealandball in Countryballs: The Animated Series
Renge Miyauchi in Non Non Biyori (English dub)
Kagura in Onmyoji: The Animated Series (English dub)
Mari Funami in YuruYuri (English dub)
Mai in Ai Mai Mi (English dub)
Ran Shibuki in Aikatsu! (English dub)
Kirin Kumatsuka in School Babysitters (English dub)
Yuzu Yosano in Project 575 (English dub)
Vivi in Ciudad Jardín (English dub)
Mashiro Mitsumine in Engaged to the Unidentified (English dub)
Zoe in Our Neighbours the Marsupilamis (El Kadsreian English dub)
Lucy in the Dingo Pictures films (R.A. Releasing English redubs)
Arischa in Arischa the Little Witch (R.A. Releasing English dub)
Main Hiiragi/Haruka Fukuhara in Cookin' Idol Ai! Mai! Main! (English dub)
Community content is available under
CC-BY-SA
unless otherwise noted.