Keepright is an American social media website. It lets users select licenses for their work when posting.
Website
Hacks
All of these hacks do not violate the rules, expect for the MEMZ hack.
Backwards hack
The backwards hack is a common hack which consists of putting "678O9Wserdug2" at the posts end to reverse most of the text.
It was first discovered by Jullen Zuckerburger and has widespread into a meme.
MEMZ hack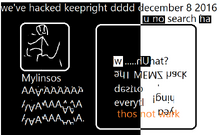 The MEMZ hack was an hack that only appeared during the "December 8" website hack. It is named after the MEMZ virus, created for octodad10 (i think that's how you spell it) to test out and was created the same year as the December 8 website hack. It is called the MEMZ hack namely for having the same functions as MEMZ.
Community content is available under
CC-BY-SA
unless otherwise noted.