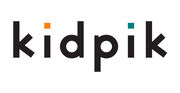 Kidpik (formerly known as Ruum) is an Eruowoodian kids clothing store chain.
History
As Ruum
In 2013, a newly formed company named Ruum & Company bought the Eruowoodian operations of the Boyz/Girlz Store chain and rebranded the chain as Ruum.
As Kidpik
In 2017, Rumm & Company decided to rename all of their stores to Kidpik due many people mispronouncing the store's name as "rum" when the name was meant to be pronounced as "room".
Community content is available under
CC-BY-SA
unless otherwise noted.