'King Kenjirou of Minecraftia' (Japanese: 鉱山国の山内健次郎王様, Hepburn: 'Kōzan-koku no Yamauchi Kenjirō Ō-sama') was king of Minecraftia from April 16, 1963 until his assassination on April 21, 1982. He was the first monarch and member of the Minecraftian Royal Family to ever be assassinated.
Titles and Styles
September 30, 1932 - August 8, 1949: His Highness the Prince Kenjirou
August 8, 1949 - January 18, 1963: His Highness the Crown Prince
January 19, 1963 - April 21, 1982: His Majesty the King
Life
Early years
Yamauchi was born on September 30, 1932 as the youngest of three children during his paternal grandmother's reign. He has two older sisters. His paternal grandmother died when he was seventeen and immediately became crown prince in 1949 when his father assumed the throne.
Life as Crown Prince
Yamauchi first met his future wife Ayano Fuchigami when he was in junior high school. They began dating in high school and college before he proposed to her in 1957. They married in 1958, with Fuchigami becoming Crown Princess Ayano Yamauchi. The following year, they had their first son, being Prince Keishi, and had a daughter in 1961, being Princess Reina.
Life as king
Yamauchi became king with Fuchigami becoming queen consort in 1963 when his father abdicated the throne at the age of 31. The following year, he and Fuchigami had another son, being Prince Shinji.
Later Life and Assassination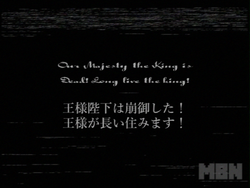 Main article: Assassination of King Kenjirou's family
In 1979, Fuchigami died of breast cancer.
On April 21, 1982, Yamauchi and all three of his children were assassinated by Soviet spies during the midst of the Cold War. He was the first member of the Minecraftian Royal Family to be assassinated, before Queen Consort Kanata was killed on Halloween of the following year. He was succeeded by his paternal cousin Lord Soujirou.
His entire family, including his wife and children, are buried at the King Kenjirou Mausoleum and Shrine in Rockton, Daiyashin, where he was killed.
Issue
Name
Birth
Death
Marriage
Issue

Crown Prince Keishi

January 9, 1959
April 21, 1982 (age 23)

Princess Reina

August 31, 1961
April 21, 1982 (age 20)

Prince Shinji

July 7, 1964
April 21, 1982 (age 17)