Laverne Vlokozu (born Laverne Didi Csupo; August 11, 1930 - February 2, 2011), also known as Mrs. Mikey, was a Canadian-Australian lawyer, diplomat and the wife of Michael Vlokozu.
Bio
Early years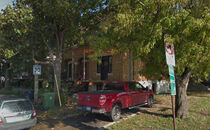 Born in Montreal, Quebec, Canada to a Canadian father and Australian mother, she grew up in Montreal and Brisbane. Her father, Scott Csupo, was a Canadian lawyer and the son of Hungarian immigrants from Nyíregyháza, while her mother, April Maurecia Csupo (née Pinkerton), was a Australian politician. Laverne was closely related to Hungarian animator Gábor Csupó on her father's side.
Marriage to Michael Vlokozu
In 1951, Laverne met Michael Vlokozu. The two married the same year.
Death
On February 2, 2011, Laverne was visiting the Potala Palace in Lhasa, China when she collapsed due to complications from lung cancer. She was rushed to Tibet People's Hospital but died on arrival.
El Kadsre, Australia, and Canada organized a joint state funeral for Laverne in Montreal. The funeral was held at the Olympic Stadium. Vlokozu family members helped with pallbearing, and David Vlokozu spoke at her funeral. Andrew Kayos noted "while David was stoic and remained calm, the other Vlokozu family members were either crying or celebrating Laverne's life."
She is buried in the Cimetière Notre-Dame-des-Neiges in Montreal. She has a cenotaph near her husband's burial site in Caelum, El Kadsre.
Community content is available under
CC-BY-SA
unless otherwise noted.