For a list of episodes in production order, see List of Jay TV episodes by production order.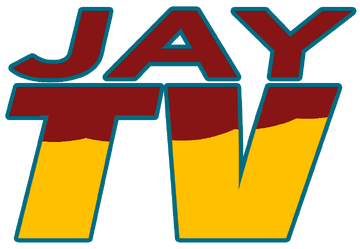 Jay TV is an American animated television sitcom created by Chance S. for The WB.
The series first premiered on The WB on June 3, 2001, during the first five seasons. After the merger between The WB and UPN (which resulted in The CW), the series was moved to that channel. Unlike Tiny Toon Adventures and Animaniacs, Jay TV was designed specifically for mature audiences, featuring comical (sometimes bloody) violence, adult humor including coarse language (some swears are censored, though uncensored on DVD), running gags and pop culture references. This effectively makes Jay TV Steven Spielberg's first adult animated television series.
Chance S. began working on the show in 1997 when he came up with an idea for an animated sitcom to air on The WB. In 1998, he confirmed that he was working on a pilot pitch for The WB and said it would premiere in 2001. He showed the pilot in 2000 and Season 1 began production.
On January 24, 2006, when CBS and Warner Bros. announced that they would shut down The WB and UPN and launch The CW later that year, it was confirmed that Jay TV would be moved to The CW. Season 5 was the last season to air on The WB.
It has a comic book series named Jay Comic and a 4D ride at WB Movie World and Universal Studios Hollywood called Jay TV: The 4D Experience. As of May 2019, it is currently The CW's longest-running animated series and the fourth longest-running American sitcom behind The Simpsons, TeenV, and Family Guy.
The following is a list of episodes of the series listed by season.
Series overview
Episodes
Season 1 (2001-2002)
Pilot - TBA
The Outlawening - TBA are outlawed in Everyville so Jay and Eddy stockpile on illegal ones and try to hide them from Ruston.
Somebody Save Me - Mr. Ashface predicts that an F6+9 tornado will strike Everyville, and TBA.
Season 11 (2016-2017)
Get New Hampshire! Part 1 - Jay runs for Everyville mayor. Meanwhile, Jacob is forced to work with Mr. Ashface to uncover a secret German experiment involving genetic engineering.
Get New Hampshire! Part 2 - When the genetic engineering experiement is let loose and starts causing chaos in Everyville, Jay becomes a crime-fighting vigilante, Captain Condom, in order to save everyone.
Hooblah 2! - When Hooblah returns to Everyville from the depths of hell, Jay and Lily are forced to TBA.
Upcoming episodes without a scheduled airdate
Abenteuer in Poop und Waffen mit Jaybross und Ashface
Handsome Nerds and their Whispering Pancakes and Their Miniature Handsome Nerds and Their Whispering Pancakes
Pleasure Autopsy 2: Not Again!
Zero Plot Whatsoever
Butt Cancer
Captain Condom and Soulja Boy
Revenge of the Rise of the Circle of the Bloody Moon: Infinity Endgame
Dying Hard
Home media
Community content is available under
CC-BY-SA
unless otherwise noted.