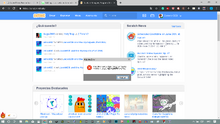 This is a complete list of websites banned in Nintendosia by their ministry of culture.
Ban list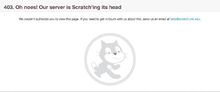 Website
Category

Banned

Reason(s)
Note(s)
Lifted
Lemmy's Land
Fansite
1998
This site uses Mario characters, which are copyrighted.
Google
Search Engine
2008

at 7:80 PM

There's No Reason, It Was Banned by Accident
1 Hour after it got banned, the ban got lifted
2008

at 8:80 PM

Pouetpu-Games.com

Flash Games
November 6th,

2012

The Company Received a lawsuit from Nintendo stating That The Games had content stolen from Mario
www.Pouetpu-Games.ntsia isn't banned, though it is only used for non-Mario Games

4chan.org

Imageboard
December

2012

The Site Features Content Inappropriate for Minors
Yotsuba Appears saying "This site is not available in your country"

Softendo.com

Fan Gaming
January 1st,

2013

The Company Received a lawsuit from Nintendo stating That The Games had content stolen from Mario

MFGG.net

February 14th, 2013
However, they need to go into

MFGG.ntsia instead, which is now related to Monkeys, The Website is Now Changed to Monkeys Fun and Good Games.

Deviantart

Art

Submitting

March 15th,

2013

The site is still accessible, but mature content and fetish art was banned
Clicking on the Art says "This Art is not available in your country!
Emuparadise
ROM Site
March 30th, 2013
The site contains ROMs, which is deemed illegal
Going onto the Site Says "Thank You Mario! But Your ROM Site is in Another Country!"
LoveROMS
WowRoms

themushroomkingdom

.net

Media
April 1st, 2013
The Company Received a lawsuit from Nintendo stating That They Stole Media from Super Mario

Scratch.mit.edu

Programming
May 9th,

2013

Some Projects used Copyrighted Content Without Permission
The Ban Was Lifted After Many People Claimed That The Site Must Be Unbanned
2020

PornHub

Pornography
June 2013
This Site Contains Pornographic Content not meant for minors

OS-Tan Collections

Unknown
November 2013
Futaba Channel got sued by Nickelodeon, suggesting that ME-Tan's Hair was too similar to Jimmy Neutron's Hair, This Also Applies To Other Things related to OS-Tans
The Ban Was Lifted After The Claim was False
2020

Vinesauce.com

Streaming
April 2014
Profanity

Twitch

September 2015
YouTube
Video Submitting
August 2016
The site is still accessible, but Nintendosians could no longer watch age-restricted videos, Fetish videos are even blocked.

Mario Making Mods

Modding
August 2017
The Site is About Hacking, Which is Banned in That Country

SMWCentral

Hacking
2018

Miracle Service.com

Film/Video company & services
June 16, 2018
Banned due to the Ministry of Culture reported the Miracle Service Studios that reusing the blood content.
The website is not banned yet on the URL: miracleservice.co.ntsia
Furaffinity [dot] net
Art Submitting
2020
When The Ministry of Culture Saw A Rant of the site made by LucianoTheWindowsFan, The Nintendosian News Reported that Over 100 Fetishes was uploaded to the site and that a Million Furries used This Site, The Site was Banned in favor of a Sub Domain called Nintendoaffinity.net where No Fetishes was added in the rules
Community content is available under
CC-BY-SA
unless otherwise noted.