Station Types
Type
Picture
First One
Last/Recent One
Description
Waffle

Maddoxia Center (1985)
2 World Trade Center (2013)
A waffle like structure
Arch

Maddoxwood (1985)
ROBLOX Maddoxia HQ (2012)
An arch structure
Waffle Arch

Maddoxia Tower Hotel (1986)
Vyond Maddoxia HQ (2018)
Hybrid between Waffle and Arch

Used in the Triple Towers station before the 10/12 terrorist attacks, replaced by Waffle.

Twin Tube

Fort Maddoxia (1993) - Half

Marriott Maddoxia (1996) - Full

Holiday Inn Maddoxia (2002)
Variation of Waffle and Arch
Seagull

Six Flags Maddoxia (1988)
Maddoxia Dam (1996)
A seagull like structure
Halo

Disneyland Maddoxia (2004)
Cartoon Network Amazone

Maddoxia (2019)

A non brutalist halo like station
Prototype Halo

Chuck E. Cheese's Maddoxia (2002)
Graffiti Zone (2003-2014)

Refurbished into hut due to mass amounts of graffiti

Same as Halo but originally brutalist style before being rejected for Being outdated.
Arrow

George Utah's House (1985)
River Sports (1990)
A station with what appears to be two arrows.
Tri

Maddoxia Prison (1985)
Maddoxia Suburbs (2000)
This is named for the glass structure on top of the building looking like a triangle.
Hybrid

Fort Maddoxia (1993)
Old Maddoxia (1998)
There is 2 varations, the one shown in the picture, which is Old Maddoxia, and Fort Maddoxia using the twin tube and seagull.
Hut

Graffiti Zone (2014)
Kalahari Maddoxia (2020)
This is named for it's structure looking like a hut, the second non-brutalist structure. Used for Great Wolf Lodge Maddoxia.
Octagon

The World of Steamed Hams (2018)
Universal Studios Maddoxia (2021)
The third not based on brutalist, this one is another variation of a hybrid due to the octagon structure, but technically less due to it not being underground or under cement.
Gallery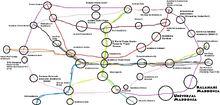 Trivia
This is a variation of the Washington DC metro.