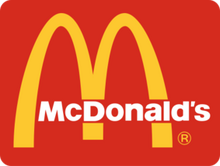 McDonald's Azara is the Azaran version of McDonald's. It was first opened in 1967 in Azara City.
History
The first Azaran McDonald's restaurant opened in 1967.
In 1994, McDonald's opened a combination family entertainment center and restaurant called McDonald's Family World in Chilton Heights. It had a Playplace, an arcade, and an animatronic stage show featuring McDonaldland characters. The Family World closed down in 2015 shortly after McDonald's retired the use of the McDonaldland characters in Azara, but the actual restaurant still remains open.
See also
Community content is available under
CC-BY-SA
unless otherwise noted.