Mintered is a British-American adult animated television series created by Jeremy Jones and David Roberts for the Fox Broadcasting Company.
History
The show first dates back to 1991, when with the pilot and a series of 18 shorts aired on The Animated Area. James L. Brooks, who was known for The Simpsons, and David Zuckerman (who would later develop Family Guy) both saw potential in the shorts becoming a full on series, and pitched the show on their behalf to the Fox Broadcasting Company in 1993, and they ordered 15 episodes of the show, and eventually earned a spot in the 1995-96 schedule, however, only the pilot was aired in 1995 due to production problems. On September 17, 1995, The pilot of Mintered, entitled "Welcome To Londontown" aired on Fox at 7:30pm/6:30pm central to 12.6 million viewers immediately before The Simpsons episode "Who Shot Mr Burns? Part Two" beating Minor Adjustments, 60 Minutes and America's Funniest Home Videos on ABC, CBS and NBC. After generally positive reviews and high ratings, Fox renewed Mintered for five further seasons.
Plot
The show centres around the Minter family, a family of Doodies, species with faces of triangles, with human-like bodies. Each has a different color. They have an array of devices that can do anything they wish, like to age themselves, teleport them to places around the world and alternate dimensions, transform, age and disquise themselves, stop time and make anything at their command. As revealed in Season 10's "Orangebolt and the Minter Factory", the show takes place in the same universe of all other animated shows set in the UK.
Each episode centres around the family's adventures and antics around the show's main setting of London after getting use to A new, futuristic version of the city. The universe of Mintered is home to every creature and animal possible.
The show normally runs for 22 mins per episode. A lot of episodes tend to either start with the theme song or a pre credits scene will play, normally involving Bluey, Pinkstone and Orangebolt watching ridiclous TV shows, this started in the first episode, where they were watching "Werkahs" A show about people who loved to go to work.
The Minter family are as follows.
Yellowsilk Minter - 33 years old, and already raising six kids. She works a night-time job at McDaniels, she gets paid £350 a month and used to have a job at the soda factory, but quit when she was 28. She had a crush on the boy band "Bros" in her teen years as revealed in Season 7's "Brothers, Sisters and Parents".

Emeraldwolf Minter - 30 years of age, he is the husband of Yellowsilk, and the father of Bluey, Pinkstone, Orangebolt, Stacker, Flute and Greengrass. He currently works for "That Morning" a weekday TV show on Eye TV, where he gets paid around £50,000 pounds a month. He was also a part of "Da Cool Krew", a teen TV show aired throughout the 1990s
Bluey Minter - At 11-years old (9 when the show began), he is normally living a happy life with his family. He does not go to school, as Orangebolt takes his place, however, he went to preschool at a young age before the events of the show. His mortal enermy is Bluey Heeler, from Bluey, a 2018 Australian kids TV show. He tends to break into Orangebolt's school at random times, just to take him home early, only to compete in weird tasks straight after. He also works part time on EBC Radio One, the Mintered universe answer to BBC Radio 1. He has very strong feeling towards protecting his family and punishes those who bully them.
Pinkstone Minter - 12, having dropped out of High School after series 14, She now lives an education-free life like his slightly younger brother. Her best friend, Sara, lives three blocks away.
Critisism of Bluey (2018)
A lot of the more recent episodes of the show mock the Australian children's cartoon Bluey due to one of Mintered's main characters having the same name as Bluey's titular character, She is described by Bluey Minter as a dog who's goal was to remove viewers from Mintered and Peppa Pig and having sucsessfully done it, succeded in brainwashing Disney into buying the show, with even Americans loving the show after premiering on Disney Junior (sister network of FXX, which airs Mintered in sydnication). The show's creators have admitted how they are against the show and how many tropes were stolen. They are also highly against the gross-out humour that the show uses a lot, and the fact it was being censored by Disney was partially for this.
In Febuary 2019, 20th Century Fox, DJ Studios and Gracie Films attempted to sue ABC Australia, BBC and Ludo Studio for breaking a rule that no television show not produced by these companies can have a major character called "Bluey", a rule legalised in 2008. After they won the battle, all three companies were each sued 2 million US dollars. Bluey was also on the brink of ending production, although instead, broadcasters must now pay two times the price to air the show on their networks.
The show's writing style has also come under criticism by the staff of Mintered. In a 2019 interview, the show's producers stated that they dislike having the show compared to Bluey. They also stated that they themselves have became hated in Australia because they broke the law. Seven Network Australia considered removing Mintered from their schedule due to this controversy, although it didn't happen, since the network said it was unfair given they only show it once a week.
They have also critisied Bluey for including gross-out humour, rude models and adult jokes including the scene were the pony poops, and Bluey, and Indy run away, Bingo as Millicent pretending to barf on Dad, and Bandit burping was seen as the Mintered staff as a way to make your children rude monsters. The scene were Bingo asks Bandit how do babies get in the mother's belly was also hated due to being too inappropriate for a kids show.
Streaming and digital sell-through
Spin-off
It was announced in 1998 that a Mintered spin-off starring Bluey Minter was in production to air in 2000. The working title was "The Big Bonanza With Bluey" before being changed to  Bluey Minter's Ultimate Combo! ahead of premier, and the show finally began airing on January 1, 2006 at 12.00am/11.00c on what was then known as TBS Superstation, and aired reruns on Cartoon Network (This was before Adult Swim). It began in the UK on Channel 4 on January 1, 2000 at 11pm It aired in Australia on Network 10 on January 5th, with it airing on Fox8 from January 2, 2000 and on 7TWO from March 30, 2019, in Canada on Teletoon on January 10, 2000, in El Kadsre on El TV Kadsre 3 on January, 16th 2000 at 11:00pm. The show aired in the Euro Republics on Febuary 12, 2000, on TV4. The show currently airs on FXX in the USA, having moved there from FX (which itself picked up the show after TBS cancelled it in 2006) in 2019. The series was a late night talk/comedy/sketch show and in the USA, it is rated TV-PG DLSV. All episodes are able to stream on Hulu in the USA, All 4 in the UK, 7play in Australia, El TV Player in El Kadsre and Viafree and Viaplay in the Euro Republics. It is set in New York City of the Mintered universe. In 2016, a weekly panel/news show presented by the production team, Reminted, launched on Hulu.
Movie
Sources reported in 1997 that a movie based on Mintered produced by 20th Century Fox was in production. It was released in 2000.
Episodes
Season
Episodes
First air date
Finale Date
Pilot
1
September 3, 1995
8:30pm
1
15
March 17, 1996
December 15, 1996
9:00pm (Episodes 1-11)

7:30pm (Episodes 12-15)

2
18
September 14, 1997
Febuary 1, 1998
3
17
September 13, 1998
January 3, 1999
4
20
September 11, 1999
January 22, 2000
Broadcast
Sydnication
In Spring 1996, 20th Century Fox Television announced that Mintered would make it's syndicated debut that fall on TBS Superstation, and began on September 7, 1996, exactly a year after Fox began airing the show, airing in a 8:30pm timeslot. Initally, only airing once every fortnight, due to a small amount of episodes, TBS Superstation gained rights to the second season in November, and began airing once a week, alternating between seasons 1 and 2. Episodes were also aired on TNT and sometimes on Cartoon Network, TNT stopped around 2000, due to TNT moving into dramas, while it was little seen on CN, leaving altogether with the launch of Adult Swim in 2001. In the fall season of 1999, Mintered began airing in local syndication.
International
See also: Mintered/International broadcast
In the United States, new episodes of Mintered are broadcast on Fox. In syndication, Adult Swim and TBS have aired the show since 2006/2009 and joined FXX and Freeform in 2019.
In the UK, it was originally broadcast on Channel 4 in October 1996, E4 began airing the show in 2005 (however was slated to air from 2001 launch, but right issues stopped this, they only started airing Mintered after the channel became free). Sky One shows it on pay TV and has since November 1996 and Fox since 2008 has showed the pay TV repeats. Channel 4 also sydnicated many Mintered episodes with the Welsh channel S4C until 2010, due to C4 being unavailable in Wales. S4C mainly showed it later at night than the C4 showing, and only the first 5 series aired on S4C in tandem with the Channel 4 broadcast.
In Ireland, the first three seasons of Mintered were broadcast by Network Two from September 1996 to July 1998. It took a break during summer before returning to Irish screens on TV Three (now known as Virgin Media One) in September 1998, it was shown there until 2005. In 2006, Channel 6, a new television channel, announced it would show the 11th season of Mintered on their channel. When Channel 6 rebranded as 3e (owned by the same network that had aired the show previously), it remained on the lineup. In 2018, with the relaunch of 3e as Virgin Media Two, Mintered was axed from the lineup, and in October 2018 moved to RTÉ 2.
In Kuboia, the show is broadcast on Vision One, and debuted in June 1996. It typically airs in the 9:00p.m. timeslot.
In El Kadsre, the show originally broadcast the first 2 series on El TV Kadsre 2, and those series aired in reruns on youth focused sister channel El TV Kadsre 3, from January 1999, Mintered moved to ETVK3, while ETVK2 continued to air reruns until 2005, when the show moved to Viva 2 (later V2) but for Series 12, Mintered returned to El TV Kadsre 3, and starting in 2019, classic episodes will air on El TV Kadsre's youth channel, ETVKK. On pay television, Mintered airs on Fox EK. The French dub airs on El TV Kadsre Francias.
In New Zealand, the show currently airs on TVNZ 2, TVNZ Duke and Sky 5, and previously on TV3, C4 and Four.
In Canada, Mintered airs on CityTV, Adult Swim and Much. It was aired previously on Global and Teletoon.
In Australia, Mintered was originally broadcast on Channel 10, in the slot following Neighbours and before The Simpsons. In 2011, it moved to sister channel Eleven. Starting in 2018, Mintered moved to rival channel 7mate after it acquired all Fox series after Network 10 (which included 11) was bought by CBS. Mintered also began airing on cable network Fox8 since 1997 and has since.
In Germany, It airs on Pro7, Comedy Central, Pro7 Maxx and Pro7 Fun. It previously aired on Viva Germany and MTV. Despite this, the show was intended to broadcast on Premiere (now Sky Cinema). In other German-speaking countries, In Switzerland, it currently airs on 3 Plus TV, 4 Plus TV and 6 Plus TV, and also on TV25, while in Austria, it broadcasts on ORF 1.
In the Euro Republics, Mintered began airing on October 31, 1995, at 10pm, on Channel 4. The actual series made it's debut the following May on TV3, along with reruns on Spark, Sky One and Spark 2. When Spark Animation was launched in 2018, Mintered began airing on that channel, with first run rights.
In Sweden, it was originally broadcast on TV3 for it's first nine seasons, before moving to TV6 when that launched.
Country
Network
Name
Premiere date
Austria
ORF 1
Die Minters
October 10th 2006 - now
Latin America
Fox

TBS

Les Minters
October 6, 2009 - present
Spain
Neox
Los Minters
November 5th 2006 - now
Canada
Teletoon (at Night)

Global

CityTV

MuchMusic

Mintered
October 17, 1997 - March 30, 2019

1999 - May 28, 2018

September 30, 2018 - present

April 5, 2019 - present

Australia
Channel 10

Eleven

FOX8

7mate

September 17, 1996 - 11th January 2011

12th January 2011 - 2018

28th October 1997 - present

2018 - present

Germany
Pro7

Pro7 Maxx

Pro7 Fun

MTV

Comedy Central

Viva

Mintered
1st January 1997 - present

2017-present

2012-present

2006-2011

2011-present

2011-2018 (Viva closed in 2018)

El Kadsre
El TV Kadsre 2

El TV Kadsre 3

Banushen Television

ETVKK

October 11, 1996 - May 2003

2003; 2017 - present

June 5, 2003 - 2017; 2020-present

2019-present

France
Canal+

France 3

M6

W9

6ter

Les monnayeaurs
8th December 1996-present

1997-2005

2005-2010

2010-present

2020-present

Ireland
RTÉ Network 2

TV3

Channel 6

3e

RTÉ 2

October 4, 1996 - June 19, 1998

September 30, 1998 - 2006

2006 - January 4, 2009

January 5, 2009 - August 30, 2018

September 19, 2018 - present

Italy
Italia 1

Italia 2

Fox

2007 - present

2011 - present

2006 - now

Kuboia
Vision One
June 21, 1996 - present
United Kingdom
Sky One

Sky Mix

Channel 4

E4

Fox

November 13, 1996 - present

July 14, 2003 - present

October 4th 1996 - present

1st September 2005 - present

June 14, 2008 - 4th January 2013

United States
Fox

FX

Adult Swim

WGN Superstation

TBS

FXX

Freeform

September 17th 1995 - present

April 26th 1999 - 2006

December 24th 1999 - 2020

January 7th 2006 - 2020

April 16th 2019 - present

September 27th 2019 - present

Hungary
Comedy Central

Humor+

A menta
July 6, 2007 - present

2018 - now

Marhi
Network 11 (now 2k)
Mintered
May 18, 1996-present
Middle East
FX
Mintered
Unknown
New Zealand
TV2

TV3

C4

FOUR

TVNZ 2

TVNZ Duke

Mintered
November 25th 1995 - 2003

2003-2010

2010 

2010 - 2nd July 2016

3rd July 2016 - present

30th October 2017 - present

Pakistan
FX
Mintered
Unknown
Portugal
Fox

Fox Comedy

Mintered
June 5, 2010

Unknown

South Africa
Vuzu
Mintered
November 29, 2010
Ratings
USA - TV-PG (most episodes)
USA - TV-14 (some episodes)
USA - TV-Y7 FV (some episodes)
Canada - PG (most episodes)
Canada - 14 (some episodes)
Canada - G (Full Circle; Teletoon)
Kuboia - K (TV)
Kuboia - 9 (DVD)
UK - PG (most episodes)
UK - 12 (some episodes)
Australia - PG (most episodes from season 10 onwards)
Australia - M (some episodes from season 10 onwards)
Australia - G (first 10 seasons)
New Zealand - PG (TVNZ and most episodes on Sky 5)
New Zealand - M (a few Sky 5 episodes)
France - All ages (most episodes)
France - 10 (some episodes)
Germany - All ages (most episode
Italy - Green label (most episodes)
Italy - Yellow label (some episodes)
Italy - Red Label (Belly & Jelly)
Games
1998 - Mintered (by Fox Interactive)
2001 - Mintered - London Lifestyle (by Fox Interactive)
2005 - Mintered Arcade (by Radical Entertaimen)
2009 - Mintered: 10 Years On (by Electronic Arts)
2010 - Mintered Mobile (by Electronic Arts)
2018 - Mintered The Sixth (by Electronic Arts, Rockstar Games and FoxNext)
Gallery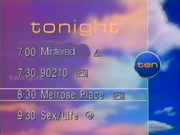 Community content is available under
CC-BY-SA
unless otherwise noted.