Nickelodeon Kuboia was a Kuboian children's television channel owned and operated by MTV Networks Kuboia. The channel was launched on 6th September, 1993 and closed on 5th September, 2010.
History
Early history - 1993 to 2005
Nickelodeon Kuboia was launched on 6th September, 1993, the same day as sister channel Paramount Select. During its first two and a half years on air, Nickelodeon Kuboia aired everyday from 5:00a.m. to 7:00p.m., with Paramount Select airing from 7:00p.m. to 4:00a.m. The channel used a combination of both idents used by the British version of the channel at the time, as well as its own unique presentation that was used for almost eleven years.
On 29th April, 1996, Nickelodeon Kuboia extended its broadcast hours to 5:00a.m. to 9:00p.m., and some of the channel's programming was dropped and moved to Nick Jr. Kuboia, which launched on 12th August that year.
Later years - 2004 to 2010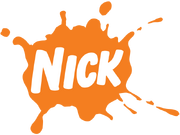 On 14th June, 2004, Nickelodeon Kuboia updated its ident packaging to match that of the one the British feed had been using since 2002, bringing an end to the presentation that had been used by the channel since its launch. Starting from this point, Nickelodeon Kuboia began to move away from its original demographic and started focusing more on live-action programming and modern animated series targeting an older audience, with its older programming being restricted to weekly programming blocks. The channel updated its idents once again and started using the iconic splat logo on 31st October, 2005, where it began to further drift away from its earlier demographic. Also on this day, the channel received an additional two hours of broadcast, now airing everyday from 5:00a.m. to 11:00p.m.
Closure
In September 2009, it was confirmed that all Viacom-owned channels would be closed in Kuboia by the end of 2010. Although Nickelodeon Kuboia was scheduled to close by April 2010, the closure was indefinitely delayed for unknown reasons. In July that year, it was announced that it would end operations on 5th September.
Nickelodeon Kuboia closed down for the final time on 5th September, 2010 at 11:02p.m. after an episode of Inner Personality. The channel spent its last two minutes on-air looping its generic idents. On most television providers, it was replaced with the Jetanie feed the following day.
Some of the channel's shows now air on other channels, such as Sumkids Network and Boing.
Other services
Nick Replay
A one-hour timeshift service of the channel, Nick Replay, was launched on 2nd February, 2004.
Nick Playback
An on-demand service, Nick Playback, was launched on 2nd February, 2004. Free-to-watch, but requiring signups to use, it allowed users to stream the most recent episode of certain television series that were airing on the channel at the time. It offered one episode of each series and six episodes in total at any given time. Episodes were regularly changed, usually after a week.
Despite receiving no new updates after 6th September, 2010, the service continued to operate until 30th November at 11:59p.m. that year.
Programming
Despite its shared name, Nickelodeon Kuboia had little to do with its American counterpart. Although it was originally centred around Nicktoons and other classic animation, beginning in 2004, the channel began to slowly turn towards live-action comedies, game shows and animated series targeted towards an older audience. Nicktoons programming was mostly moved to the Nicktoons Network programming block, which launched in June 2004, and ran on Mondays and Thursdays from 8:00p.m. to 11:00p.m. Additionally, an anime-orientated block, Nick Power was introduced in 2006, and ran on Sundays afternoons from 4:00p.m. to 6:00p.m.
Unusually for a Nickelodeon channel, Nickelodeon Kuboia also featuted a music-orientated block, Nick Party, which aired on Tuesday, Friday and Saturday nights from 8:00p.m. to 9:00p.m. This block was broadcasted simultaneously on Nick Go!
Final programming
This list consists of programmes that were broadcast on the channel at the time of its closure. It does not include programming from the Nicktoons Network or Nick Power programming blocks.
All Grown Up!
Avatar: The Last Airbender
Best Ed
Drake & Josh
Get Your Own Back
iCarly (seasons 1-2 only)
Mr. Bean: The Animated Series
My Parents Are Aliens
My Spy Family
SpongeBob SquarePants
Staraoke (UK version)
Takeshi's Castle
The Basil Brush Show
The Fairly OddParents
Zoey 101
Late at night only
The following programmes were only broadcast from 5:00a.m. to 7:00a.m., and 9:00p.m. to 11:00p.m.
Crackerjack (1982-1984 episodes only)
Figure It Out
Fun House (UK version)
Get Your Own Back
Legends of the Hidden Temple
Run the Risk
Uh Oh!
International availability
Outside of Kuboia, the channel was available on NTL in Sallisland, in the Philippines on Destiny Cable, and certain providers in Cupia and the Noobian Union.
Nick Magazine
Sponsored by King P, a magazine for the channel, originally titled Nickelodeon Kuboia Weekly, was launched in October 1999. Published every Saturday, it features sneak peaks of upcoming shows and episodes, facts and trivia, as well as reviews for entertainment and tourist attractions in Kuboia. It was rebranded as Nick Magazine in June 2004. The last issue was published on 28th August, 2010.
The magazines were produced under a tight budget, and featured a lot of mistakes and spelling errors, as well as a few factual inaccuracies. From 1999 to 2004, each issue came to €0.49. By 2010, the price for each issue had increased to €2.99.
Website
In August 1996, a website for the channel was launched, though prior to 2004, it was simply a singular page with the channel's weekly schedule and a breif summary of its content and sister networks.
Following the channel's closure in September 2010, the Nickelodeon Kuboia website was updated to explain the closure, with links provided to redirect the user to the websites of its sister channel's websites. From December 2010, the website redirected to a variety of different places overtime, such as the TVVC website and a placeholder webpage. As of 2021, it currently redirects to an error message.
According to a former employee of MTV Networks Kuboia, the company would often forget to monitor the website.
Tropes
Nickelodeon Kuboia/Tropes