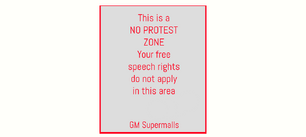 No-protest zones are a legally-required barricade system used in the United El Kadsreian Nations and other El Kadsreian Islands countries and their territories since 1995.
They are used at circuses, rodeos, bullrings, certain public places, and certain fast food restaurants "to prevent activists from forcing their views onto people who don't think about it that much". In recent years, certain cities have been using it frequently in the light of movements such as Black Lives Matter, the alt-right, and the Me Too movement.
Hiroshi Kayos described the barricades in 1998 as "the complete opposite of a free-speech zone", and his son Andrew Kayos has called them areas "wherein you can't blab about animals that just died for your Macca's or something."
GM Supermalls has used the no-protest zones in their non-US locations as well.
Carwardine Parks' Alabama's Backyard is the first ever 100% protest-banned theme park, due to a string of incidents.
Community content is available under
CC-BY-SA
unless otherwise noted.