Patry is a side-scrolling game developed and published by Seymour Games. It was first released in March 1984 for TS-OS computers, Tournament 1100 and June 1984 for Nitrome consoles. The game was critically acclaimed It was a huge success and biggest hit game, considering it to have aided in resurrecting the crashed Vlokozu Union media industry. It was one of the early side-scrolling games before Super Mario Bros.
Plot
Patry's plot is told in the game's instruction manual. The peaceful people of the Island Kingdom are suddenly attacked by a tribe of turtles called the Dragumaze Army, led by the villainous Dragosaur.
Gameplay
The game is divided into seven worlds, each of them containing three levels. Patry (or, in the case of a second player, his brother Samson) has to get to the end of the level by jumping over various gaps and avoiding the enemies on his way.
Characters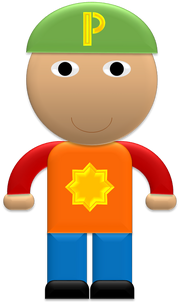 Patry - the main protagonist of the game.
Samson - 2-player protagonist of the game.
Snaily - one of the main (snail-shaped) enemies.
Hecky - one of the main (bird-shaped) enemies.
Rouchy - one of the main (bug-shaped) enemies.
Dragosaur - final boss of the game.
Merline - Patry's girlfriend.
Development
Patry, the successor to the 1981 arcade title Pipes Go High!, was designed by Terry Samson and Ido Hiro. The development of Patry was an early example of specialization in the video game industry, made possible and necessary by the capabilities of the TS-OS and Nitrome consoles.
Ports
After first released for TS-OS computers and Nitrome consoles. It was ported to:
1985 - Arcade, Commodore 64, ZX Spectrum, Famicom
1986 - Theorysonic Hyper-System, MS-DOS, IBM PC, ZX Spectrum, Amstrad CPC
1987 - Nintendo Entertainment System
1989 - Theorysonic Blue King
1990 - Game Boy
1992 - Sega Genesis/Mega Drive, Super Nintendo Entertainment System, Theorysonic Codear
2004 - PlayStation 2, Xbox, Game Boy Advance, Nitrome Unity 256 (as Seymour Arcade Hits)
2008 - PlayStation 2, PlayStation 3, Xbox 360, Wii, Nintendo DS, PSP, Nitrome Unity 512 (as Seymour Arcade Hits II)
2009 - iPhone, iPod Touch, Portosic Touch, TheoryPhone, TheoryTablet (as Patry Classic Touch, now known as Patry Classic)
2011 - Android and ViraOS (as Patry Classic Touch, now known as Patry Classic)
Reception
The game was a critical and commercial success. The original Patry popularized side-scrolling video games and provided the basic concept and mechanics that would persist throughout the rest of the series.
Legacy
The success of Patry led to make sequels, spin-offs, compilations, etc.
Community content is available under
CC-BY-SA
unless otherwise noted.