Portosic TV is a digital media player and micro-console developed and sold by Theorysonic. It was first released on August 4, 2001. It is a small network appliance and entertainment device with music, movie, live streaming, social, internet and gaming features. It runs on the TVTSUG operating system, a TV variant of TSUG. 
History
Theorysonic annouced Portosic TV in 2000.
Software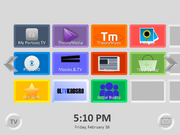 The software runs on TVTSUG.
Hardware
Models
The first generation model has an AVI, VGA, Ethernet adapter, USB, etc.
The second generation model comes with HDMI output, wireless networks, etc.
Accessories
Playing a DVD or Blu-ray on Portosic TV requires an adapter for a DVD or Blu-ray player.
Reception
See also
Community content is available under
CC-BY-SA
unless otherwise noted.