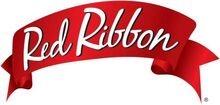 Red Ribbon is a restaurant fast food chain and bakery shop that originated from El Kadsre. It's currently owned by Red Ribbon Bakery Holdings Inc.
History
The bakery was founded by Yuri Tukushi-Seniko and her husband, Arnold Seniko. The first store was opened on August 29, 1959, as a small cake shop in Glonisla, West El Kadsre (now El Kadsre) and it's now expanded to more regions and more countries. Starting USA in 1961, the UK in 1965, Mahri in 1966, Sentan in 1971, Piramca in 1972, North El Kadsre in 1978, the Philippines in 1979, and Vicnora in 1984.
Products
Birthday Cakes
Cake Rolls
Crinkles
Double-Flavored Cakes
Macaroons
Mini-Cakes
Pancakes
Pies
Polvorons
Regular Cakes
Spaghetti
Tarts
Community content is available under
CC-BY-SA
unless otherwise noted.