Not to be confused with Wilson Pictures.
The Republic of Wilson, also known under the names "Wilson", "Wilsonian Colleague", "Commonwealth of Wilson", or "New British Columbia" is a country located in North America, specifically where most of British Columbia and parts of Alberta and Alaska, as well as the entire area of Point Roberts is located, bordering Canada to the north and east, the United States to the south and to the north west (via its largest state; Alaska), as well as the Pacific Ocean to the west. The Republic of Wilson holds many records in the BlueyLane world and is the most populated and most visited country in the BL world. Because of this, the Republic of Wilson is considered "superiorly urbanized" by many people among the globe.
It also is the country where something called subcities was invented, which is technically a city, or a small town, bordering a large city. Another trait for the word "subcity", or the plural noun "subcities" is a subdivision, where its entire area is at least one city.
The country's capital; Moosetown, is an incredibly large city and metropolitian area that serves at least 92% of the Republic of Wilson's population, which is insane. This city also has the most skyscrapers in the BL world; over 4,000. Because of this, Moosetown has even rung a bell from urban explorers because it is so large, so vibe-like, and that the fact that it's an overall fun place to explore. Did you know that most of the Republic of Wilson's population keep awake at night? That came from Moosetown during late 2020.
Note
Page was formerly in speedy deletion.Text of the reasoning goes here: I actually have a Wiki for this country. It's called the Wilson Wiki. Me and my friend, rand0m, have worked on this wiki since late June 2021. I'm also super embarrased and ashamed of myself for having this, as well as theR's page here "popular". It's not. I kept this article up on my Safari tabs for a long time. For admins, please delete this article. That is my one and only wish.
Etymology
The name comes from a black male, Lamar Wilson, who freed the blacks from slavery in 1923.
The current name comes from Moosetown citizen Elliot Swine, whos suggestion was the winner for a voting contest on what the new name for the Rep. of Wilson should be. The event occured in March 2021.
History
Pre-Republic of Wilson, 1726-1878
Before Republic of Wilson was what it is today, it was ran by tribes, notably the Nentenyto and Barmik tribes. In 1877, Americans started colonizing the area, causing the tribes to go extinct.
Full Colonization, 1878-1884
In 1884, American troops extended up to modern day Yukon. They were thinking of making a republic in the area, courtesy of Page Gangloff and Conrad G. Murphey.
Independence, 1884-1885
On August 12th, 1884, people asked this area should be independent.
In September the following year, the country was united as "Neue British Columbia".
Fall-through Era, 1885-1930
By the time of the Republic of Wilson's independence, the country reamined unknown for the rest of the world, except for most North American countries. That would be until 1930.
The Great Depression, 1930-1933
In 1929, the Great Depression began, leading many countries' citizens to lose money. The Rep. of Wilson stood out to the rest of the countries; a small portion of the population was affected. The Great Depression in the country lasted only from 1930 to 1933. Only 3 years! How insane.
African-Wilsonian and Women Rights/Name Change, 1933-1935
In 1933, a 25 year old black male, Lamar Wilson, freed all the blacks in a slavery house in Cuthbert (a small town in East Wilson) to the west to get free time. A few days later, the city of Cuthbert was no more. In 1934, the name was switched over from Neue British Columbia to Wilson. Many people were happy about this, while others were not. In 1935, women were given rights also.
Life in the Republic of Wilson
Where to live?
If you would to live in Moosetown you would most likely be living in a humongous hotel in the center or in one of multiple suburbs in or around the city. Moosetown has over 4,000 skyscrapers, which makes it overall fun.
Experience in Moosetown
People have flatscreen televisions with built in VCRs, most likely built from theR. If you're lucky enough you could live in theR's hotel in their headquarters. If you have a large family or are in a large all-male group, rooms 1 to 25 have a lot of bedrooms, which makes a perfect fit. Houses, hotels or not, have basements. This marks a perfect choice for basement parties, which happen oftenly.
Media
Television
Television networks include theR, SBS, IBN, NBC, ontv, Cardio, [random], TVE, and ETV
Regions
The Republic of Wilson has a total of 32 regions in all. MoosetownNBR is labeled in red because Moosetown, the capital and largest city in the Republic of Wilson, is in the region. Although nearby Fredericktown is small, it has a quite large population; 12.4 million. Many regions are named off of cities, like Aquatahkee and Gamer Creek.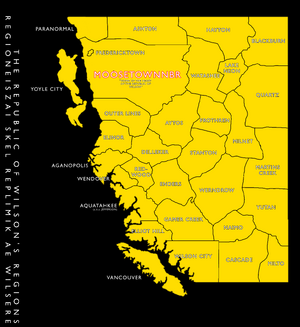 Cities
Moosetown
This is the largest city and capital of the Republic of Wilson. This city has a population of 4 billion, with the downtown area having a population of 296 million and counting. Moosetown is well known for having thousands upon thousands of skyscrapers and memorials. It houses theR HQ, Carbine Hill, The MPM, the Moosetown Underground & Overground transit service, the FitnessGram Pacer Test EPG 2021 Museum, and the iconic Rio 2016 Statue in Vinicius Square.
Wilson City
This is the 3rd largest city as well as the former capital of the Republic of Wilson. It has many iconic suburbs, including Fyffe and Ribley. It houses the Kusio City Archives (Kusio City is obviously "Ye Old Moosetown"), the Ribley Water Tower Collapse Incident memorial, and the Winston at VB Fire memorial.
Yoyle City (Rep. of Wilson City)
This is the second largest city behind Moosetown, and is home to 1/4 of all living objects that are official Republic of Wilson citizens.
Blueytown, New Philadelphia, Riverside
These are three separate cities stacked on top of each other. They all were gained approval as an official cities on April 10th, 1977. Blueytown is inspired off a former mayor of Wilson City, Joshua Bluey (1913-1984). This is where 1/8 of all humanoid dogs reside.
Oval Mountains
This is a city on the Oval Mount Trails. It has gained it's 5th skyscraper in 2013. It's quite large, although being on a mountain.
Flag
This is the Republic of Wilson's flag. They have been using this flag since 1939.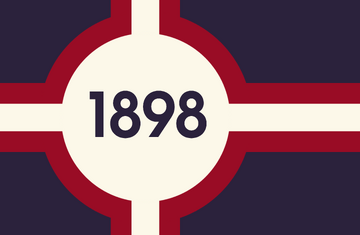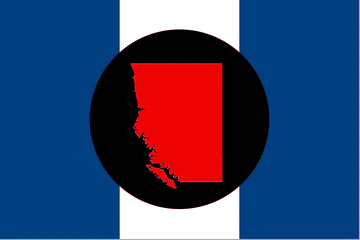 The blue on the left consists of the Pacific Ocean that it borders to the west, while the blue on the right consists of the giant Neon Lake in the southeast of the country. The white indicates the color of the Fangler, the Rep. of Wilson's national bird. The black circle doesn't have an exact meaning behind it, but may possible represent the skylines of Moosetown. The yellow represents the sun and the freedom in the country.
The shape of the Republic of Wilson is red every September 25th since 1967 to represent the military members whose lives were lost.
Names
First names
Male names
Popular male names include: Tom, Frederick, Sedgwick, Elliot, Esnor, Wilson, Tobias, Jeab, Mark, Avery, Mareece, Xeroz, Por-a-boy, Sprite, Tyler, Moose and Brandon.
Some female names, such as Elinor and Connie are male names in the Republic of Wilson.
Female names
Popular female names include: Kaylee, Aiesha, Avery, Corry, Queene, and Ash.
Surnames
The most popular surnames likely end with "-wenn". This includes Greenwenn, Browenn, Canwenn and Ruinwenn. Other popular surnames include: Johannson, Marion, Sedgwick, Doe, Keller, Wilson, Moose, Moore, Killfoil, Jackson, Alnwick and Austen.
Food
Popular food is pizza, popcorn chicken, postach (chicken legs), broccoli, popcorn, bananas and the "Port William Sausage". Scrapple, a popular food in Pennsylvania, is the most popular food in Moosetown and is eaten by over 3 billion residents of Moosetown, including the Republic of Wilson's current president.
Music
Music genres
Seperate types of music genres are liked among many across the Republic of Wilson.
Wilsonian Slapbeat, a music genre similar to Jersey Club, is extremely popular in the Republic of Wilson, mostly among African-Wilsonians, DJs, male teenagers and adults, as well as Moosetown citizens. WILSON.ULTRA, a mix of rock, alternate rock, nu metal and heavy metal is also wildly popular, with Fire's Breath being the king of this music genre (i kid you not). Moosetown Vibes used to be popular, but wore off in November 2021. It's still active, with approximately 17 to 19 million listeners and slowly increasing. Other popular genres include Moosetown Core, Mooserock and Moosetown Hardcore.
Songs
"Crane's Rage" by Rotteen is wildly popular among Moosetown citizens, with the estimated watch rate of 997 million on the rMusic mobile app.
Ethnic breeds
Education
Government Branches
The Wilson Department of Education (1890-2021) was an educational branch that lasted from 1890, 5 years after the Republic of Wilson's independency up until 2021. It ran most districts in the country, except for the Wilsonian schools. That goes to the GMW.
The GMW, also known as "Gezlik Marckobaja nis (Repilmik ae) Wilsere" (The Educational Government of (the Republic of) Wilson (1887-2021)) was the Wilsonian variant of the Wilson Department of Education, It ran the schools that spoke all Wilsonian.
Decline
On January 1st, 2021, Republic of Wilson government officials Seth Bajrektarevick, Dane Poetker, Josh Ridley and Marc Trumm-Vozel discovered teachers spying on students via video cameras on their laptops and even teachers and students doing NSFW acts to each other. This infuriated all 4, and because of this, lead to the permenant ban of education from the Republic of Wilson. HOWEVER, LECs, or Legal Education Centers do exist in the Republic of Wilson, and only operate on Monday and Wednesday instead of the ordinary Monday to Friday schedule.
Allies
Allies include:
Rivals
List of Territories and Areas
This country has many territories. They will be listed as such:
North America
Skupocnont - a peninsula in northeast Canada
Mulnac - An autonomous region near Alert, Canada, also housing the northern permenantly inhabited area on the BL Earth (

Roskai

)
Nonoit - An autonomous region in north Alaska
Everglade Valley - A wildlife reserve and trading region in Florida (The Israeli Nation in the BL Universe)
Baja California de Gereza y Caisa - A strip in the Baja California Peninsula, Mexico
South America
Rio de Blaso - A heavily populated region east of Rio de Janiero, Brazil
Área de Refugio - A militarised region in Bogota, Colombia. Name translates to "Shelter Area".
Europe
Aimstroke - Two islands in the UK.
Africa
Mayagi Strip - A wildlife reserve in central Africa, spreading from Uganda to Kenya
Tirrea - A mostly inhabitable region in the borders of Sierra Leone and Guinea
Asia
Oe Relot - A trading region in western Syria, 25 miles north from Damascus
Dir Roite Swepit - A trading region somewhere in Iraq
Kithlen - A heavily populated region in the China-North Korea borders (this area was meant to keep North Korea citizens in the safe). This area was given back to China in November 2021.
Kuaiqu - A militarized region in China near Shanghai to keep Taiwan from getting attacked by China (social credit -100000000). Name translates to "block area" in traditional Chinese.
Oe Omloq - A scattered region in various parts of real life Israel and real life Palestine
Oceania
Others
Upcot - A peninsula in the Mixelia Islands
Coldblooded Avenue - A heavily populated territory where the entirety of Goiky was. The area was formerly named "Enzumanão" and was formerly abandoned for a long time before being in use. Later turned into the United Martmanchian Republic.
Lorenn - A scattered region in Antarctica
Wurl & Nue Danpar - Two heavily populated areas on a fake Pacific island by the name of Tu'uroto
Public holidays
January 1st - New Year' Day
January, every third Monday - Martin Luther King Jr. Day
February 13th - Valentine's Day
March 17th - St. Patrick's Day
September 4th to September 7th - Labor Day
September 25th - Republic of Wilson Independence Day, Mark Marion Day
October 31st - Halloween
November 20th - Thanksgiving
December 24th - Christmas Eve
December 25th - Christmas
December 31st - New Year's Eve
Trivia
Please note this article is still in progress.