We're Getting Mutants in the MCU - The Loop
Play Sound
Not to be confused with Wilson Reitman.
Wilson redirects here. For other uses, see Wilson (disambiguation).
Wilson, officialy known as the Republic of Wilson, often refered to as the "Violent Country" is a country located in North America, specifically where most of British Columbia and parts of Alberta and Alaska, as well as the entire area of Point Roberts is located, bordering Canada to the north and east, the United States to the south, the Cranian Union to the north west, and the Pacific Ocean to the west.
Etymology
The name comes from a black male, Lamar Wilson, who freed the blacks from slavery in 1923.
The current name comes from Moosetown citizen Elliot Swine, whos suggestion was the winner for a voting contest on what the new name for the Rep. of Wilson should be. The event occured in March 2021.
History
Pre-Republic of Wilson, 1726-1878
Before Republic of Wilson was what it is today, it was ran by the Cik Unizvar, which also controlled then-to-be-Cranian Union, then-to-be-Mixelia, and various parts of the Crania-Tacitoa Isles. In 1878 Americans pushed the Ciks back from the area.
Full Colonization, 1878-1884
In 1884, American troops extended up to modern day Yukon. They were thinking of making a republic in the area, courtesy of Page Gangloff and Conrad G. Murphey.
Independence, 1884-1885
On August 12th, 1884, people asked this area should be independent.
In September the following year, the country was united as "Neue British Columbia".
Fall-through Era, 1885-1930
By the time of the Republic of Wilson's independence, the country reamined unknown for the rest of the world, except for most North American countries. That would be until 1930.
The Great Depression, 1930-1933
In 1929, the Great Depression began, leading many countries' citizens to lose money. The Rep. of Wilson stood out to the rest of the countries; a small portion of the population was affected. The Great Depression in the country lasted only from 1930 to 1933. Only 3 years! How insane.
African-Wilsonian and Women Rights/Name Change, 1933-1935
In 1933, a 25 year old black male, Lamar Wilson, freed all the blacks in a slavery house in Cuthbert (a small town in East Wilson) to the west to get free time. A few days later, the city of Cuthbert was no more. In 1934, the name was switched over from Neue British Columbia to Wilson. Many people were happy about this, while others were not. In 1935, women were given rights also.
(somewhat) Futuristic Era, 1935-1940
By 1940, VHS tapes, VCRs, VHS camcorders and televisions the style of normal 1970s TVs were already being manufactured.
The Wilsonian Empire, 1940-1987
By 1940 the Republic of Wilson took control of many parts of the world, including most of Metropacifica.
Collapse, 1987-1989
In November 1987, the Wilsonian Empire began to give away their land as countries upon many requests.
Life in the Republic of Wilson
Media
Television
Television networks include theR, SBS, IBN, NBC Wilson, OnTV, CNLT, [random], TVE, Trion, TargetTele, TriangularVision and WTV Efo.
Regions
The Republic of Wilson has a total of 32 regions in all. MoosetownNBR is labeled in red because Moosetown, the capital and largest city in the Republic of Wilson, is in the region. Although nearby Fredericktown is small, it has a quite large population; 12.4 million. Many regions are named off of cities, like Aquatahkee and Gamer Creek.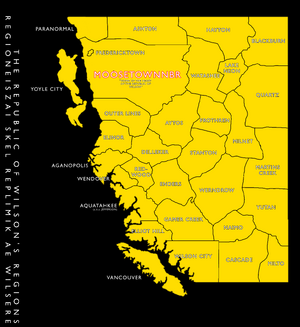 Cities
Moosetown, also known under Violent City, is the capital of the Republic of Wilson, welding a population of up to 5.1 billion and counting.
Flag
The flag of the Republic of Wilson (2022) can be seen below.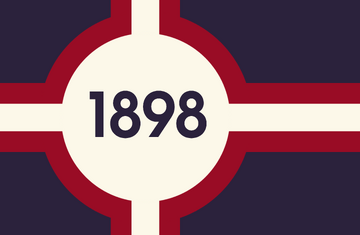 In 1939, the Blue Parallel was introduced to the Republic of Wilson and was used up until 2022 when the Government adopted the "DDS (Double Diagonal Stroke)" flag.
For 10 days on February 11th through the 21st 2011, the Republic of Wilson's flag changed after the death of Timothy Ross.
Crime
The crime rate in the Republic of Wilson is high. Since the Violent City Catastrophe, 616,433,000 people (1/8 of the population) have been in an altercation with a person with a weapon.
Names
First names
Male names
Male names that are popular in the Republic of Wilson are listed here, ranked by how many people are given the name, according to theR's 2022 Census:
Henry
Frederick
Avery
Halley
Jack
Oliver
Duncan
Tyler
Xeroz
Elliot
Por-a-boy
Mark
Mackenzie
Elinor
Quandale
Jahh
Jeab
Tom
Fennecox
Tobias
Sprite
Marsky
John
Alex
Andrew
Christopher
Dean
Digit
Clayton
Cameron
Many female names are considered male names.
Female names
Female names that are popular in the Republic of Wilson are listed here, ranked by how many people are given the name, according to theR's 2022 Census:
Mackenzie
Payten
Amiyah
Savanna
Maeve
Cristal
Kailee
Jada
Macie
Shyanne
Adriana
Camryn
Halley
Serenity
Krista
Dalia
Deja
Heaven
Paula
Rebecca
Ariel
Lily
Fernanda
Kiera
Kennedy
Emily
Heidi
Anabelle
Angie
Kirsten
Surnames
Surnames that are popular in the Republic of Wilson are listed here, ranked by how many people are given the name, according to theR's 2022 Census:
White
Clayton
Sylvester
Alnwick
Halley
Clark
Rodriguez
Wilson
Calloway
Campbell
Johnson
Westchester
Williams
Columbine
Brown
Jones
Wharton
Moore
Killfoil
Davis
Full names
Full names that are popular in the Republic of Wilson are listed here, ranked by how many people are given the name, according to theR's 2022 Census:
Henry White (1.55 billion)
Avery White (907 million)
Frederick White (603 million)
Halley White (510 million)
Henry Clayton (509 million)
Food
Popular food is pizza, popcorn chicken, postach (chicken legs), broccoli, popcorn, bananas and the "Port William Sausage". Scrapple, a popular food in Pennsylvania, is the most popular food in the country so far and is eaten by over nearly all of the residents in the country, including the Republic of Wilson's current president.
Music
Music genres
Seperate types of music genres are liked among many across the Republic of Wilson.
Radio stations
A few stations most people listens to includes The Dark Pyramid, theR Music 108.4, FLFM 75.0, La Nueva 87.7 FM and 99.9 The Edge.
People/Trends
This country is a free country (anarchy) according to this DFW article.
The life expectancy is 100.0 (most ethnic breeds), 183.9 (living objects) and 101.3 (other breeds).
The average age for vaping is 10.
The average age for smoking is 14.
The average drinking age is 10.
The average age a person gets their driving licence is 8.
The youngest age a person can go to a juvenile center is 6.
The youngest age a person can go to a prison institution is 14.
The age of consent is 21.
The most commonly said consonant in the Republic of Wilson is R.[1]
Travel
Entering the country line costs you free, same with going out.
If you want to take a plane and are a Republic of Wilson citizen, it is mostly free. If not, your social security certificate (SSC card) must be brought over to the toll. Another method, a more popular one, you could bring ₩2.99 will to the toll.
Ethnic breeds
Education
Government Branches
The Wilson Department of Education (1890-2021) was an educational branch that lasted from 1890, 5 years after the Republic of Wilson's independency up until 2021. It ran most districts in the country, except for the Wilsonian schools. That goes to the GMW.
The GMW, also known as "Gezlik Marckobaja nis (Repilmik ae) Wilsere" (The Educational Government of (the Republic of) Wilson (1887-2021)) was the Wilsonian variant of the Wilson Department of Education, It ran the schools that spoke all Wilsonian.
Decline
On January 1st, 2021, Republic of Wilson government officials Seth Bajrektarevick, Dane Poetker, Josh Ridley and Marc Trumm-Vozel discovered teachers spying on students via video cameras on their laptops and even teachers and students doing NSFW acts to each other. This infuriated all 4, and because of this, lead to the permenant ban of education from the Republic of Wilson.
Alternative usage
Legal education centers (LEC for short) do exist all over the Republic of Wilson, with over 300,000 private schools and 25 million public schools. They are only open on Monday.
Allies
Allies include:
Rivals
List of Territories and Areas
This country has many territories. They will be listed as such:
North America
Skupocnont - a peninsula in northeast Canada
Mulnac - An autonomous region near Alert, Canada, also housing the northern permenantly inhabited area on the BL Earth (

Roskai

)
Nonoit - An autonomous region in north Alaska
Everglade Valley - A wildlife reserve and trading region in Florida (The Israeli Nation in Ceres)
Baja California de Gereza y Caisa - A strip in the Baja California Peninsula, Mexico
Post-Securitav - A disputed peice of land surrounding

Norsy

(a city in the Cranian Union), just in case if a war takes place
South America
Rio de Blaso - A heavily populated region east of Rio de Janiero, Brazil
Área de Refugio - A militarised region in Bogota, Colombia. Name translates to "Shelter Area".
Europe
Aimstroke - Two islands in the UK.
Africa
Mayagi Strip - A wildlife reserve in central Africa, spreading from Uganda to Kenya
Tirrea - A mostly inhabitable region in the borders of Sierra Leone and Guinea
Asia
Oe Relot - A trading region in western Syria, 25 miles north from Damascus
Dir Roite Swepit - A trading region somewhere in Iraq
Oe Omloq - A scattered region in various parts of real life Israel and real life Palestine
Oceania
Others
Upcot - A peninsula in the Mixelia Islands
Lorenn - A scattered region in Antarctica
Wurl & Nue Danpar - Two heavily populated areas on a fake Pacific island by the name of Tu'uroto
Public holidays
January 1st - New Year's Day
January, every third Monday - Martin Luther King Jr. Day
February 13th - Valentine's Day
March 17th - St. Patrick's Day
September 4th to September 7th - Labor Day
September 25th - Republic of Wilson Independence Day, Mark Marion Day
October 31st - Halloween
November 20th - Thanksgiving
December 24th - Christmas Eve
December 25th - Christmas
December 31st - New Year's Eve
See also
Trivia
Please note this article is still in progress.
References