SBS TV is a cable television channel founded in 1989 that produces El Kadsreian English, Japanese and Spanish dubs and public service. That also comes with an SBS 2 on air. SBS has different programming compared to its Australian counterpart.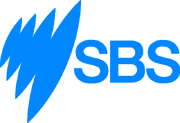 History
SBS was launched on cable television on June 1, 1989 by the El Kadsreian government under the authorization of the Australian government.
Current programming
News & information
International news
NHK News (Japan) [1989-present]
VBC News (Vicnora) [1989-present]
KBC News (Narthernee) [1989-present]
BBC World News (United Kingdom) [1995-present] [Also aired on El TV Kadsre 5]
Original programs
Dateline El Kadsre (1992-present)
Tracks (1997-present)
Food Battle (2009-present)
TeleBingo (2005-present)
International programs
Sing! China [2016-present]
Anime (with Japanese dub)
One Piece (2006-present)
Dragon Ball Super (2018-present) (also aired on BTV Me)
Events
Former programming
International news
ITN World News (UK) [1989-1995]
Original programs
International programs
Say Aah (Netherlands) [1989-1996]
The West Wing (USA) [2000-2007]
Travelers (Canada) [2017-2019]
Community content is available under
CC-BY-SA
unless otherwise noted.