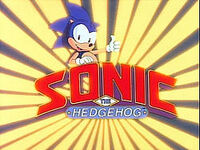 Sonic the Hedgehog is an American-Italian animated television series based on the video game series of the same name. It was produced by DiC Productions L.P., Sega of America, Inc., and the Italian studio Reteitalia S.p.A.
in Kuboia, the show premiered on Bumper's Block in early 1994. The show began broadcasting on KT in September 1998. The show aired on KT until it closed in November 2008.
When the show aired on KT, the episodes "Fed Up with Antione/Ghost Busted" and "The Odd Couple/Ro-Becca" were split into two different episodes.
Broadcast history
Age rating
The series was given a K rating by the Leisure Rating Association.
In Kuboian culture
From September to December 2007, a play based on the show was performed at West Woods Theatre in Fahrbahnin.
See also
Community content is available under
CC-BY-SA
unless otherwise noted.