Strelka is a Russian entertainment channel owned and operated by Arrow.media. Launched in 1971 as a regional TV channel. It was the first regional channel with a 50k population of the town/city. Closed on March 1st, 2019 due to low ratings and financial problems and relaunced on February 29th, 2020.
History
As a regional TV channel. 1971-2017
The idea of the first regional channel with a 50k population was made by RGA's workers in early 1971. The experimental test broadcast was started in late February 1971. A month later, regular public programming began on April 1st, 1971 - this date is considered to be the launch of the Aleksin Programme. AP CT USSR's programming was similar to Programme One and Two - entertainment, documentaries, news, and cultural programming. Some programmes were broadcasted in colour until 1976 when the CT USSR started a full colour broadcast.
By the Dissolution of the Soviet Union, Aleksin Programme was renamed to Aleksin-TV. The network partner has become RTR (now Russia-1) with a GTRK Tula's regional programming. The first regional programme was "Пряники и Самовары" - an infotainment programme. Before they appear, the programmes was with a different production.
Planned to switch network partner to TV-6 in 1995, but later it was scrapped. It was successful only in January 1997 when the network partner was switched to STS.
In honour of the new Millennium (2000), Aleksin-TV changed its name to A-TV:2000 and design to future style. A year later, the same effect happened in honour of the 21st century - AleksinXXI-TV. The name continued to use until 2005, when the name changed back to Aleksin-TV.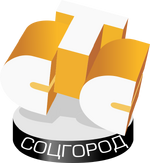 In 2002 the network partner was changed to
TNT
. Only two years later - in 2004, the STS programmes were returned back to the new channel with a new regional channel - STS-Sotsgorod. One programme - "Готовка" was moved to STS-Sotsgorod.
In 2010, all regional programmes, except for news, are stopped in production and removed from the air. Also, the network partner was changed to 7TV.
By the closure of 7TV, in late 2011 the network partner was changed to Mir.
After the CEO was replaced in February 2016, the change of network partner was planned. The network partner will become ZMTV (now Moscow TeleVision 1). This caused a lot of negativity from the staff side and the massive layoffs are started. The change was successful in April 2016. Meanwhile, the old staff was created the new ATK with an old network partner - Mir (now a Che! affiliate).
In January 2017, ZMTV-Aleksin became an independent regional channel while maintaining a ZMTV brand. Later, the picture format was changed to the widescreen.
The regional era ended on June 20th, 2017 when ZMTV-Aleksin was changed to entertainment channel Strelka.
As a general TV channel. 2017-2019
On June 20th, 2017 a rebranding happened. The regional channel rebrands to entertainment general TV channel - Strelka. The new slogan - All on the Arrow! (Всё по Стрелке!)
On July 1st, 2017, an international version was launched in Europe and America. Five months later - an HD version was launched.
On February 22nd, 2018, a rebranding happened for a second time. The name was changed to FutureTeleChannel. The programming remained unchanged. A month later, rebranding for the third time happened, the name again changed to Antenna-71. The reason is simple - "Doesn't sound like a future channel". The "Strelka" name was given back in May 2018.
Also in May 2018, five thematic channels of Strelka were launched:
Strelka Kriminal (before that, it was Strelka Xtra; renamed in June as Strelka Kriminaly i Proishestviya) - a channel about criminals and accidents.
Strelka Klassika - channel about historical theme.
Strelka Anime - channel with anime content.
Strelka Moda - a channel about fashion.
Strelka Sport (before that, it was FTCsports) - a channel about sports.
Later, in June, another thematic channel was launched - Strelka Mult, a channel with content for younger viewers.
In October 2018, the headquarter at first moved to Tula, then to Moscow.
Alongside Arrow.media, in late January 2019 began the financial problems. The final air was in the early minutes of March 1st, 2019. Many regional affiliates that transmitted Strelka changed to the other channels (example - Saint-Petersburg - TMK)
Relaunch. Since 2020
The relaunch was dated to April 1st, 2020 initially. Later, for replacing the closed TMK channel in Russia, relaunch was moved to February 29th.
Network Partners (1991-2017)
RTR-GTRK Tula (1991-1997)
STS (1997-2002)
TNT (2002-2010)
Semyorka (2010-late 2011)
Mir (late 2011-2016)
ZMTV (2016-2017)
Programmes
Former
Express-News (2018-2019)
Strelka Kids (2017-2019; 06:00-09:00)
Gorodok (production - 1993-2012; replay in 2018-2019)
Uletnoe video[ru] (production - since 2010; replay in 2018-2019)
Dorozhniye Voiny[ru] (production - since 2010; replay in 2018-2019)
Tushite svet! (production - 2000-2003; replay in 2017-Dec. 2018)
Kirby: Right Back at Ya! (4kids dub, replay in 2017-2018)
Rabbids Invasion (production - since 2013; replay in 2017)
Aleksin: Instruction for use [Алексин: Инструкция по применению] (2003-2010) - the regional version of Moscow: Instruction for use
Tula News [Тульские новости] (2003-2017)
Cooking [Готовка] (2002-2005)
Interview with ... [Разговор с ...] (2001-2010)
Health [Здоровье] (2001-2007)
The History of Tula [История Тулы] (2000-2003)
Pryaniks and Samovars [Пряники и Самовары] (1992-2010)
News (1985-2017)
Broadcast hours
1971-1992: 07:00-13:10/15:00-17:30/19:00-00:25
1992-1993: 06:00-12:30/13:00-00:55
1993-1996: 06:00-01:00
1996-2006: 06:00-03:00
2006-2016: 24/7
2016-2017: 07:45-01:00
2017-2019, 2020-present: 24/7
Slogans
No slogan (1971-1994; 2005-2010; 2018)
The First Aleksin TV [Первое Алексинское ТелеВидение] (1994-2000)
Millennium is here [Миллениум уже здесь] (2000-2001)
The regional TV in 21st century [Региональное телевидение XXI века] (2001-2005)
Having fun with benefits [Развлекаемся с пользой] (as 7TV's slogan, 2010-2011)
Reconstruction on the Seven - ATV [Реконструкция на Семёрке - АТВ] (as 7TV's slogan, 2011)
You're watching SevenTV - ATV! [Вы смотрите Семёрку - АТВ!] (as 7TV's slogan, 2011)
One for all [Один для всех] (as MIR's slogan, 2011-2016)
All on the Arrow! [Всё по Стрелке!] (2017-2018; 2018-2019; 2020-present)
Community content is available under
CC-BY-SA
unless otherwise noted.