Sung Gim (Chinese: 宋吉姆 Sòngjímǔ, born Sung Tingting (宋婷婷) born April 2, 1938) is a Chinese-El Kadsreian writer, director, and producer.
History
Sung was born Sung Tingting (宋婷婷) in Nanking, Jiangsu, Republic of China in 1938 to Mei Tingting (梅婷婷). Sung never met her father, Wim-Song Tingting (維姆宋婷婷), who was killed in the Nanking Massacre.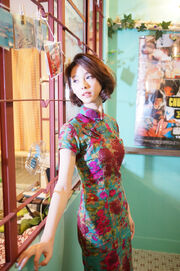 At age 6, Sung and her mother moved to the Kadsreius Sentanese Republic. When she was 8, her mother remarried to Édouard Matsushige, a Frenchman of Japanese origin who worked for the French embassy in New Salta. Her brother, René Matsushige-Gim, is also a director, mostly known for the El TV Kadsre Ninja Movies with her, Robert Vinnie, and Brian Casey.
Sung was the writer of most Technic Heroes films from 1980-2001. Since 2016, she mainly acts as an executive producer for the films. Prior to becoming a film producer, she was a burlesque performer under the name of Candy Chong. She is also known for co-creating the Technic Western films. She also wrote for RGN's Neo projects.
In the 1980's, Sung dabbled in music producing and songwriting. In the 1990's, she worked on script adaptation and translation in dubbings from Power Network, when El TV Kadsre Television Network began allowing it's commercial rivals, especially future sister corporation Banushen Media Corporation, to use their studio.
She also directed and worked on the production of The Given Takers' 1987 concert film The Given Takers: Live at the Venza.
Personal life
Sung has been married three times. Her first marriage to Kassi Saguwa (1937-1985) lasted from 1965-1980. Sung then married Technic Heroes CG animator Gérard Subercaseaux (b. 1942) in 1988, and their marriage lasted until 1994. Since 2003, she has been married to Ryota Ružička (b. 1939).
Sung is bisexual, having been a supporter for LGBT rights since she was 15. She has a large following in the LGBT community, especially among lesbian and bisexual women.