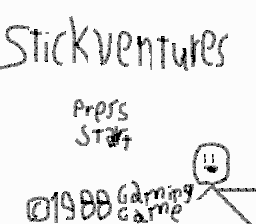 Stickventures
Developer: Gaming Game
Publisher: Gaming Game
Platform: NES
Released in JP: 1989
Released in US: 1988
Released in EU: 1990
Released in AU: 1991

---
This game has unused areas.


This game has unused graphics.

This game has unused music.


This game has unused sounds.


This game has unused text.


This game has debugging material.


This game has regional differences.


This game has revisional differences.

---
A game where it's in black and white and you take control of a stickman, It also has a 3D bonus stage in the style of space harrier.
Unused Level
An earlier version of 1-1 with a test NPC.
Unused Graphics
A rotating F.
| Unused | Used |
| --- | --- |
| | |
An unused walking animation, used for the test NPC seen in the test level, the final animation is just the character running.
A rotating cube.
The player was originally meant to be grown via a power-up but went unused, this was used in the prototype when starting a level.
Unused Music
Some unused death jingles.
A piece of music meant for testing purposes.
Unused Sounds
A weird SFX.
Unused Text
A text meant to appear when the player dies.
Debug Mode
| Debug | In-Game |
| --- | --- |
| | |
There is a debug mode for the bonus stages left in the game that you can access by changing the hex value at $00000100 from $00 to $01 and could be toggled by pressing B.
Version Differences
Logo
| International | Japan (Virtual Console) |
| --- | --- |
| | |
The Gaming Game Logo had been changed to the Futaba Games logo in the Japanese virtual console release due to the rebranding of the company in that region.
Title Screen
| International | Japan |
| --- | --- |
| | |
The Japanese title screen was completely redone.
Community content is available under
CC-BY-SA
unless otherwise noted.