The Klasky Csupo Show is an American animation series.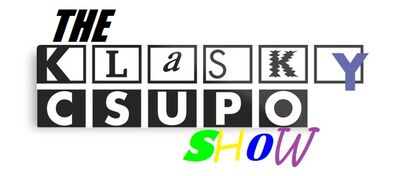 Logo characters
Klasky Csupo
Girl Csupo
Spiffy Pictures
Screen Gems
Viacom
PIXAR
Sesame Workshop
Gallery in broadcast
Why the show was moved to Adult Swim in Jussland
in Jussland, Klasky Csupo says "Sexy" instead of "Sause"
It was turned to 18 years old only.
in One episode, Jussland Censors Us, Klasky and his friends ranted on Jussland.
All the characters (except for Girl Csupo and Pixar) are drunk.
The show was titled and renamed "Ле Хоррибле анд Террибле Мисадвентурес оф Сплаат!", Russian for "Le Horrible and Terrible Misadventures of Salad!"
Splaat's new name is Salad.
Community content is available under
CC-BY-SA
unless otherwise noted.