Template:Infobox gameThe Land Before Time: Hit and Run! is an open world exploration/vehicular combat action game developed by Radical Entertainment and published by Disney Interactive and THQ Nordic for PlayStation 4, Xbox One, Nintendo Switch, and Steam.
Missions
Level 1: One Normal Sunday
Player: Garfield Samsung (human)
S-M-R-T: TBA
TBA
Level 2: Chomper's City
Detection Deflict Disorder: TBA
Level 3: Boardwalk Funtime
Level 4: One Mysterious Night
Level 5: Back to the Boardwalk
Final Level: Haunted Town
Vehicles
DLC
Wave 1: Here Comes The Hazbin Gang!
This first DLC pack contains characters and vehicles from the hit FOX animated series, The Hazbin Hotel.
Characters
Charlie
Vaggie
Angel Dust
Alastor
Husk
Nifty
Vehicles
Trivia
This is the first Land Before Time video game to receive a T rating from the ESRB.
The is the one of the only Land Before Time video games to use profanity.
TBA.
ESRB Rating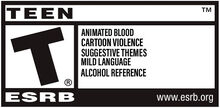 Cultural References
Grand Theft Auto Series (2001-)
The game is pretty much a parody of the Grand Theft Auto Series, with similar mechanics and gameplay, but more family friendly.
Spider-Man 3: The Game (2007)
ModNation Racers (2010)
Colin McRae: Dirt 2 (2009)
Quotes
Cera: I need a ride!
Cera: You almost hit a Threehorn!
Garfield: I AM EVIL GARFIELD, I AM EVIL GARFIELD!
Mike: Stupid people won't move out of the way.
Woman: What the hell were you thinking?
Man: HEY, EYES ON THE ROAD, JERK!
Kid: THIS IS A SCHOOL ZONE!!
Woman: I'm scared and disoriented!
Man: That does it, I'm moving to Florida.
Man: Sad day for generic characters everywhere.
Man: HEY!
Man: Look out!
Woman: I'M SO SICK OF THIS HAPPENING!!
Man: Watch it, buddy!
Garfield: Learn to drive, you dumbass!
Driver: HEY, WHAT'S THE MATTER WITH YOU?
Driver: Let's pick it up here people!!
Driver: HEY, GET YOUR FACE OUT MY FACE!
Wild Arms: Eat my dust, Dust-Eaters!
Wild Arms: What were you even thinking?!
Wild Arms: I am excelente!
Wild Arms: OK, that's a traffic violation.
Garfield: OK, that's a lawsuit!
Garfield: Ow, my neck!
Gafield: Ow, my ass!
Garfield: Ow, my head!
Garfield: Tsk tsk, reckless driving is my pet peeve.
Garfield: Damn it, I spilled my Coke!
Garfield: OUT OF MY WAY, JERKASS!
Garfield: D'oh!
Garfield: Walk? That wasn't part of the deal!
Guido: Whee!
Guido: Aah!
Guido: Oh, we're gonna crash!
Guido: HEY!
Rocky: WHAT THE HELL WERE YOU THINKING?!
Guido: Flying is my thing!
Chomper: Rah! MOVE OVER!
Mutt: Lousy rotten karmic retribution!
Shorty: AGH!
Hyp: 2, 4, 6, 8, you suck, I'm great, la-da-da-da you I hate!
Spike: MOVE OVER!
Littlefoot: Why do I have to walk?!
Littlefoot: Foot pains, I'm having foot pains!
Petrie: Wow, me need a disco nap.
Chomper: Let's roll!
Mutt: Watch it! I almost spilled my sundae.
Hyp: Ouch! You'll pay for that!
Rocky: Ow, that was my ass!
Grandpa Longneck: Hey, mind your manners!
Tria: Stranger danger.
Etta: OUT OF THE WAY!
Etta: MOVE OVER!
Etta: WHEEEEE!
Etta: SAVE ME, FLYERS!
Ducky: I'll pay for that.
Ducky: That hurted-ed.
Wild Arms: HE USE CHEAT CODE!
Petrie: Ow, me wing!
Garfield: Hyp did it...
Petrie: OH, NOT THE POLICE!!
Spider-Man: Try not to run into my fist with your face.
Spider-Man: Coming at ya!
Spider-Man: This is the part where you fall down.
Spider-Man: This may sting a little.
Grandma Longneck: I need help here.
Ruby: Ow, my leg!
Ruby: Sorry!
Ruby: [Sighs] Just in time.
Ruby: Hello, my friend; my friend, hello.
Ruby: It's about time.
Spider-Man: Batter up!
Mutt: Ow, I think I hurt something.
Chomper: It's so hard to drive with these tiny arms.
Chomper: That brings back bad memories.
Chomper:
Kid: Move it, I want my Frosty Chocolate Milkshake!
Mutt: Here's more hurt!
Street Thug: Damn it!
Kid: WATCH OUT!!
Rhett: Wow, this video game sucks...
Rhett: Man, I need to rest my front feet.
Rhett: Police, we meet again!
Shorty: Hey, I need a mission for ya!
Mike: Aw, I've swallowed my gum.
Nod: Hey, I wanna talk to you!
Ali: Yes!
Ruby: Sorry about that.
Ruby: My bad.
Ali: Watch where you're going!
Ali:
Ali:
Hyp: Wait! That's an insult!
Hyp:
Hyp:
Mutt: Aw, I wanted a treestar.
Loofah: Where are the berries?!
Loofah: Uh-oh.
Loofah: Coming through.
Loofah: Wow! The brakes are tickling me.
Doofah: Ow! Right to the belly!
Doofah:
Kid: Maniac!
Tria: That's not nice.
Pterano: I didn't do it.
Pterano: You could've said excuse me!
Pterano: Whoa! That was close!
Bron: Can I talk to you for a second?
Bron:
Spider-Man: No problem.
Jessie:
Thug: Deal with this web-head!
Woman: Yikes!
Man: Whoa!
Man: Get a job!
Mama Swimmer: You OK?
Mama Swimmer: Come on over here!
Lambeosaurus: Ouch!
Community content is available under
CC-BY-SA
unless otherwise noted.