VerniX Animation Studios was an American animation studio that creates CGI animated feature films, founded by Michael Wildshill in 1993. The studio is best known for its film The Autism Problem.
VerniX was formed in 1993 by Michael Wildshill as a joint venture between Universal Studios and Wildshill. The studio closed in 2002, after the financial failure of their first film, The Autism Problem. However, in 2012, VerniX was later re-opened and operated until it was merged into Clearwater Partners II LLC in 2017.
VerniX's films are often marketed and distributed by Universal Pictures. Additionally, VerniX would not only make films for just Universal, but also other studios such as 20th Century Fox, Columbia Pictures, Paramount Pictures, Metro-Goldwyn-Mayer and Lionsgate.
History
Founding: 1993–2000
The company was designed to compete with Pixar Animation Studios, which had phenomenal success during the late 1990s and early 2000s with the releases of films such as Toy Story (1995), A Bug's Life (1998), Toy Story 2 (1999), and Monsters, Inc. (2001).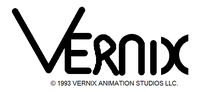 Productions and closure: 2001–02
VerniX Animation Studios did not achieve the same level of success as Pixar's animated crop. Its first and only feature film The Autism Problem (2001) got mixed reviews and was a costly flop, losing $100 million for Universal Pictures.
Almost a year before The Autism Problem, Universal laid off 300 of the 380 people who worked at VerniX in order to "make films more efficiently." On January 3, 2002, the company announced that it was shut down.
Revival: 2012–2017
In February 2012, ten years after the studio's closure, it was announced that VerniX Animation Studios was revived by Wildshill. It was also announced that VerniX would no longer produce future family-friendly films, but will instead focus on mature films and some films aimed at late teens and adults. In addition, it was also announced that Being Ian was VerniX's first film in 15 years since The Autism Problem, to be released on December 11, 2015 by Universal Pictures. However, it was put on hold shortly afterwards and acquired by Clearwater Animation, along with the studio.
Filmography
Feature films
Released films
| # | Title | Release date | Rotten Tomatoes | Metacritic | Budget | Gross |
| --- | --- | --- | --- | --- | --- | --- |
| 1 | The Autism Problem | March 16, 2001 | | | | |
Community content is available under
CC-BY-SA
unless otherwise noted.