Socialist Republic of Vietvanh (Vietnamese: Cộng hòa xã hội chủ nghĩa Việt Vành) is a country on a subcontinental island in Southeast Asia. It shares maritime borders with Malaysia, Brunei, and Vietnam.
History
Vietnamese Colonization (1618-1799)
British Colonization (1799-1871)
Independence from France (1872-1874)
French Colonization (1875-1900)
2nd British Colonization (1901- 1914)
World War of Japan (1914-1918)
World War 2 of Japan (1939-1945)
3rd British Colonization (1945-1955)
The Vietvanh Empire (1955-1995)
Handover of Vietnam (1995-1997)
Current Era (1997-Present)
Territories
Vietvanh has four Vietnamese states, four British states, and one mixed territory.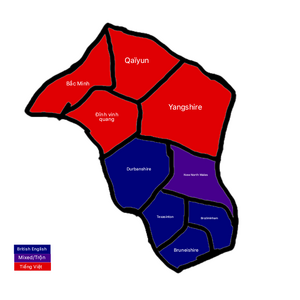 Holidays
New Year Day (1st Jan.)
Lunar New Year (January or February)
Good Friday
Easter Sunday
Mother's Day (Second Sunday of May)
Summer
Father's Day (third Sunday of June)
Independence Day (2nd September)
Mid Autumn Festival (September or October)
Halloween (31st October)
Christmas (25th December)
Boxing Day (26th December)
New Years Eve (31st December)
Media
Public TV Channels
Medialand TV1
Medialand TV2
Medialand Vietvanh
Medialand Viet
Medialand News
Medialand Sports
SBS Vietvanh
SBS 2 Vietvanh
SBS Tagalog
SBS Khmer
SBS Mandarin
Private TV Channels
VVT3
VVTXD
VVTABC
CH4
E4
Film4
More4
4seven
ITV (Vietvanh)
ITV 2 (Vietvanh)
ITV 3 (Vietvanh)
ITV 4 (Vietvanh)
ITV Be (Vietvanh)
CITV (Vietvanh)
VTV4
Lox TV
Lox TV 2
Lox TV 3
Lox Info
HDCT 1
HDCT 2 / Vie Channel
HDCT 3 / Dreams
HDCT 4 / PRIME
HDCT 7 HD
HDCT 9 HD
Channel 5
5Star
5USA
5Spike
5Select
Private Cable TV Channels
VVCT 1
VVCT 2 - Neo Entertainment
VVCT 3 - Children's VVCT
VVCT 4 - TodayTV
VVCT 5 - Ultimate Sports
VVCT 6
VVCT 7
VVCT 8
VVCT 9
VVCT 10 - Football Plus
VVCT 11 - LUXE.TV
VVCT 12 - LiChi TV
VVCT 13 - Let's Viet
Premium TV Channels
BBC Earth Asia
BBC Lifestyle
BBC World News
Cbeebies Asia
Disney Channel Asia
Disney XD Asia
Disney Junior Asia
AXN Asia
Animax Asia
GEM Asia
HITS
Space Toons
Discovery
Discovery Asia
Asian Food Network
Food Network Asia
Discovery Science Asia
TLC Asia
DMAX Asia
Travel Channel International (Asia)
HGTV Asia
Animal Planet Asia
National Geographic Wild Asia
National Geographic Asia
Nat Geo People Asia
Nickelodeon Asia
BBC UKTV
CNN International
HBO Asia
HBO Hits Asia
HBO Signature Asia
HBO Family Asia
Max by HBO
Paramount Channel
RED by HBO
FOX Sports Asia
FOX Sports 2 Asia
FOX Sports 3 Asia
Fox Family Movies
Eurosport
Rugby Pass TV
GMA Life TV
GMA Pinoy TV
GMA News TV
The Kapamilya Channel Vietvanh (15 minute Feed)
FX Asia (1 hour Feed, similar to Malaysia)
MTV Asia (1 hour Feed, similar to Malaysia)
Fox Movies Asia (1 hour Feed, similar to Malaysia)
Fox Action Movies Asia (1 hour Feed, similar to Malaysia)
Hits Movies (1 hour Feed, similar to Malaysia)
Public Radio Station
Medialand AM Station 1
Medialand AM Station 2 Filipino
Medialand AM Station 3 Mandarin
Medialand AM Station 4 Khmer
Medialand AM Station 5 Regional
Medialand AM Vietnamese station
Voice of Vietvanh Vietnamese
Voice of Vietvanh British English
Medialand Awesome FM
Medialand Classic Hits FM
Medialand Tối thượng FM
Private Radio Station
958 FM
Groovy FM
RetroFM
Vui mừng FM
Harmony FM
881 FM
Capital FM
thống nhất FM
Epic Music
Class FM
BBC World Services
Film Companies
VieVan Pictures
BHD Studios Vietvanh
Vietvanese Pathé! Films
AlefFilms
Daewon Studios
Newspaper and Magazines
Vietvanh Daily Inquirer
New Vietnam Insights (Thông tin chi tiết mới về Việt Nam)
The Guardian Vietvanh
Space Bubbles Daily
Rod and Line
Rod and Line Vietnamese (Câu cá hàng ngày)
Cleo
Cosmopolitan
TellyViet
Stuff
Mint
Mobilezine
Techgazine
stylish daily (Tạp chí phong cách)
MobileUltimate (di động cuối cùng)
Technology
Vietvanese drive to the right, similar to UK, Cyprus, Indonesia, El Kadsre, Singapore, Thailand, Australia, New Zealand, Singapore, etc.
Vietvanese plugs and sockets are A, C, F and G.
Vietvanese Pay TV providers are Sky, K+, FPT, Ultra Media and VanhTel Vision
Vietvanese use the PAL Format for movies, television, and games.
Vietvanese Mobile Carrier are VVTelekom, EE, Maxis, Verizon, Vivaphone, Viettel, Mobifone, Three Telecommunications, O2 and Digi.
Vietvanese User Interface is GeoPlus UI, Based on Android.
Vietvanese Owned Companies are GeoPlus, StarCars, AlterDuo (Rebadge Daihatsu Models), HàiKhan Technology, Vivasonic, Vivfast, VivaMilk, etc.
Cuisine
The popular dishes are British and Vietnamese.
The National Dishes are Fish, Vietnamese Spring Rolls and Chips.
People & Trends
The minimum Voting age is 21.
The minimum Drinking age is 21.
The smoking age is 18.
Vietvanese Official Language are English and Vietnamese.
The currency of Vietvanh is Pound Sterling.
Climate
Vietvanh experience hot and humid summers with the majority of precipitation falling from isolated showers and thunderstorms, and mild winters. Occasionally, typhoons may also pass through the area.
Spring (29th January-27th March)
Summer (28th March-25th October)
Autumn (26th October-24st December)
Winter (25th December-28th January)
The lowest recorded temperature was 7 C in Bac Minh on January 17th 1962. The hottest recorded was 41 C in Durbanshire, on April 22nd 2016.
Trivia
Community content is available under
CC-BY-SA
unless otherwise noted.