We Are Triplets is an El Kadsreian-Canadian animated television series created by Kervin Faria and produced by DHX Media for YTV and El TV Kadsre Animation that orignally aired on ETVKK since August 1, 2019. It is a spin-off the animated series Chuck's Choice and stars fictionalized, animated versions of The Triplets.
Voice cast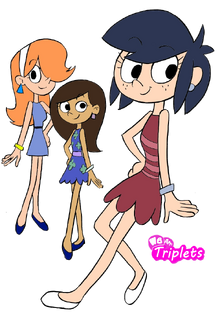 International broadcast
Australia
Canada
El Kadsre
Japan
Kuboia
New Zealand
Worldwide
United El Kadsreian Nations
United Kingdom
United States
Disney Channel (TBA 2020)
Community content is available under
CC-BY-SA
unless otherwise noted.