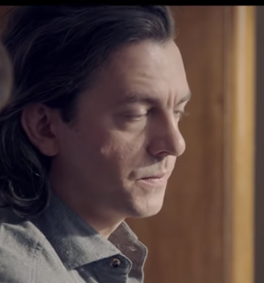 Wojciech Zawoski (born on May 13, 1976) former Polish footballer and father of Mateusz and husband Joanna. He was one of the players was famous and scored the most goals. From some clubs who played former FC Barcelona at the end of their career.
Look
Wojciech, has black hair - curly, he has blue eyes. He walks in a gray T-shirt everyday.
History
Junior career
In his junior career he played in FC Barcelona and Legia Warszawa. He won a cup while in FC Barcelona.
Senior career
Legia Warszawa
The first match played in 1992 in the colors of Legia Warszawa. For the match against GKS Katowice lost in the match against Gornik Zabrze with foul the player and got a yellow card, then the teams with a 0: 0 draw. Before the match with Hutnik Krakow then the coach said that still one such a prank and he will become a reserve player, but explain that he did because others do so, then the coach said they are doing uncleanly.
After the matches Hutnik, Igloopol Dębica and Lech Poznań, the coach told Wojciechow that he was trying, but he would be best at borrowing to try harder at the new club. Tomasz signed a contract with ŁKS Łódź.
Loan - ŁKS Łódź
Wojciech Zawoski, he was loaned out for three matches. Already at the first match he was a forehead with Legia Warsaw - a temporary former club. He beat 1: 0. Later with the game Olimpia they lost to Pogoń Szczeciń.
Return
At the end of the season when Legia loses, he tried to make up for the losses but he did not make it.
In the seasons of 1993/1994, 1994/1995, 1995/1996 he scored the most goals, he defeated Polonia Warszawa, defeated Raków Częstochowa and defeated Amica Wronki.He also won the Golden Ball three times.
Manchester United
Legia coach - Paweł Janas, said that he decides to train Polish U-21 national teams, so he will replace another coach.
Władysław Stachurski, took the place of the coach and according to him in Legia Warsaw, he plays poorly, comparing to Tony Dunne and John Aston Jr. that is, he would like Manchester United. He finally agreed and went to Manchester.
He made his debut in the 3rd of July. In the match against Arsenal, he won from 1-0, then he met Peter Schmeichel, Gary Nevill, David Beckham, Andy Col, and Pat McGibbon reserves.
Coach - Alex Ferguson praised him that they never had a Polish fellow.
In a match against Aston Villa and later with Everton, Leeds United, Leicester City, Liverpool, Middlesbrough, Newcastle United and Nottingham Forest, he plays with them 0-0, 2-2, 1-0, 3-1, 1-0, 3- 3, 0-0 and 4-1. In a match against Middesbrought and Newcastle Unt. he got a red card and walked out of the brawl.
At the end of the season they played they won the Premier League championship.
In the following seasons he has been playing from 1997/1998, 1998/1999, 1999/2000, 2000/2001, 2001/2002, 2002/2003, 2003/2004, 2004/2005, 2005/2006 and 2006/2007. Met, Teddy Sheringham, Jesper Blomqvist, Quinton Fortune and Wayne Rooney.
Juventus - The Old Lady
July 13 Wojciech moved to Juventus, for 1 300 456 322 $. First match against Atalanta won 1-0. Initially, the team thought he was unnecessary, but later matches showed that he is in the spirit of being in Juventus. He scored a gold ball and played for the 2009/2010 season.
Liverpool
August 23, before closing the transfer window he moved to Liverpool FC. He was only in the 2010/2011 season. The first match played with Arsenal 1: 0, and the last in Wolverhampton Wanderers losing to 0: 1 won the Manchester Unt.
Loan - Middlesbrough
He was loaned out when the coach said he says he does not play better in Liverpool. He was loaned to Middlesbrough for three games. The first match was with Barnsley and the last at Blackpool. Later the loan was used to match Hull City. He was again in Liverpool.
Loan - Notthinham Forest
He was again loaned, this time from Nottingham Forest. The first match was from Derby County and the last from Leeds United.
Loan - Leicster City
The last loan was from Leicester City. The first match was with Leeds United, lost 1 : 2, and the last was with Milwall win 4 : 2.
PSG
In the 2011/2012 season he moved to PSG for 2 345 457 256 $. He played with big stars such as Nicolas Douchez and David Beckham (re-meeting). His first game was in Ajaccio. When his son was 4, he lied about his normal work because he is too young to understand it. After David Beckham left, he said that they will meet again. He said that for sure. Later when the career was gone, the team decided to play FC Barcelona at the end of their career (where he started his junior career).
FC Barcelona
In the 2015/2016 season he made his FC Barcelona debut. Tanu met Lionel Messi. He played the match with Athletic Bilbao. Messi's assistant and his goals. 28 May declared the end of their career and the last match played with Real Madrid.
Community content is available under
CC-BY-SA
unless otherwise noted.