Zachary Tobias Morris (born October 16, 1993) is an American actor. and director. He was born and raised in Los Angeles, CA, and is notable for starring in the My Life as a Teenage Robot movie trilogy and distributing international music in the US and worldwide under his alias, distributor and label, Musique Obscura, either on reigion free CD, colored or plain vinyl, cassette, or digital files. He releases music from various artists not well known in the U.S. such as, Caro Emerald, Take That, Sydney Youngblood, Sugababes, Alex Gaudino, Roger Sanchez, Example, Sabrina, and many more.
Early life
Zachary Morris was born in San Dimas, CA on October 16, 1993 to American parents. When he was 10 years old, he would pursue a small acting career performing in school plays, and when he discovered the internet when he was 12, he would often go on mp3.com and listen to imported music by artists such as, Roger Sanchez, Sydney Youngblood, and Cartoons DK.
Career
Acting career (2008-present)
Musique Obscura (2015-present)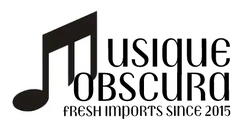 History (2015-present)
While Zachary didn't launch the Musique Obscura persona and label until 2015, he actually began importing music into the US during production of My Life as a Teenage Robot: Return of Vexus, where he included Dancing In The Moonlight by Toploader, DooDah! by Cartoons, Another Chance by Roger Sanchez, Change by the Sugababes, and If Only I Could by Sydney Youngblood into the film and its official soundtrack. The people at Nickelodeon were impressed by his music finds and suggested that he also become a legal music importer. He then launched Musique Obscura, a record label distributing international music into the United States, and his alias. He began releasing international music under the name Musique Obscura for the first time when he re-released Danish group, Cartoons' successful debut album, Toonage into the United States on CD and Red-White Checker Textured Vinyl in late 2015. Every release by Musique Obscura would feature a sticker, dubbed an, "official seal" by Zachary that either says, "Now Available In The US & Worldwide Thanks to Musique Obscura", "An Imported Good by Musique Obscura", "A Fantastique Import From Musique Obscura", "No Longer Impossible to Find Here Thanks to Musique Obscura", or "A Musical Gift From Europe/Asia/The Balkans/Oceania/South America/Africa to You. -Musique Obscura". Each and every sticker contained the Musique Obscura logo.
Deal With Billboard (2016-present)
In 2016, Todd Boehly, the current CEO of Billboard Magazine, was amazed by some of Zachary's imported music, most notably the Sugababes import, Angels With Dirty Faces, and asked if they could make a deal with Billboard to re-chart his imported music into the United States, this record chart category would be called the "Hot & Imported" chart, while for old songs that never charted in the US, it would be dubbed the "Hot, Retro & Imported" chart. The first song to ever chart in this category would be Overload by the Sugababes. Mutya Buena, the former and now-current member of the Sugababes was amazed by their post-release US charting and had this to say, "You know, our whole life together as the Sugababes, we never expected success, but now, success in America as well? Amazing! We all just want to say, thank you Musique Obscura, for letting us make it into the US." More songs imported by Zachary would later re-chart into the US.

Community content is available under
CC-BY-SA
unless otherwise noted.